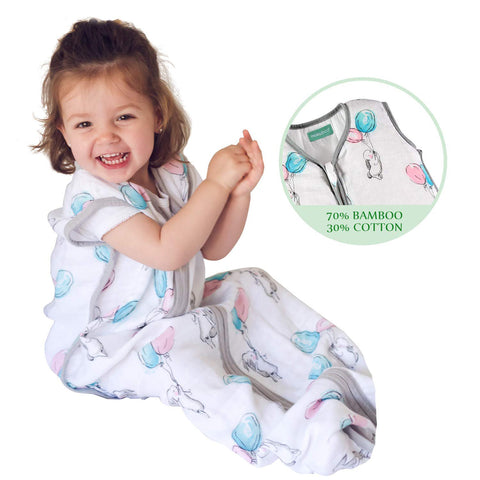 Confused about what TOG is and what TOG measure you need for your sleeping baby? Here's a quick guide for you to figure out how to dress our baby properly for sleeping.
WHAT IS TOG?

 TOG is a unit of measure of thermal insulation used in the textile trade. The British "TOG" value is the international standard measurement of a blanket's thermal effectiveness (how well it keeps you warm). In US, clothing insulation is often measured in 'clo' and you often see this value in adult sleeping sacks.
WHAT YOU NEED TO KNOW?

To figure out which TOG rating sleeping bag would be appropriate for your baby, simply figure out the temperature of your baby's bedroom.
Many experts recommend that the temperature in the room where a baby sleeps be kept between 68-72°F(20-22C).

 Once you know the room temperature, match this measurement to the sleeping bag that's best for your baby based on its TOG rating. There are few things to keep in mind:
A baby sleeping bag surrounds the baby, providing insulation from both below and above, and also a warm pocket of air around the baby. This is the reason why the TOG rating for a baby sleeping bag is much lower than adult duvets. While adult duvets may seem more thick and warm, it is recommended that baby's sleeping bag to be kept 'light weight' and be no more than 3.5 TOG rating.
Keep in mind that layering allows great flexibility in keeping babies warm and cozy without overheating,

 and each additional layer of clothing adds to overall TOG rating. Overheating may increase the risk of sudden infant death syndrome (SIDS) in babies 1 month to 1 year of age.
Thick Fabric does not equal more warmth

 

-

 

TOG measures how well a garment retains heat. So just because two fabrics feel the same, it doesn't mean both fabrics would retain heat the same way. It all depends on the composition of the fabric as well as the layers and the fillings that would make up the garment. 
Biloban Baby Bedding
is a manufacturer of baby bedding products. Our aim is to offer super comfortable baby bedding products in affordable price.