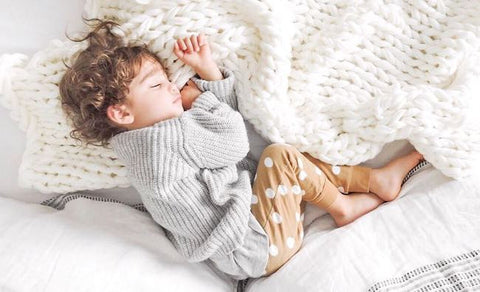 Sleep sacks are more than just a cute way to dress a sleeping baby. A baby sleep sack is a "wearable blanket" that safely eliminates the need for loose blankets in the crib.
Parents want their babies to be comfortable while they sleep, but first and foremost, the baby's sleeping environment needs to be safe. The American Academy of Pediatrics says to keep cribs bare of any loose objects (including blankets), but you can opt for baby sleeping bags (a.k.a. sleep sacks) to give your baby that cozy feeling without the risk.
A sleep sack is a wearable blanket that babies can use instead of a real blanket. It usually zips on over clothes to give baby the warm and cozy feeling of a blanket without having to worry about the risk of suffocation. That makes sleep sack a good transition from swaddles and stay put on older babies that toss and turn.
The Good Housekeeping Institute scientists and parenting experts evaluate baby gear of all kinds, including sleep products like cribs, crib mattresses, and more. The sleep sack picks ahead are from brands we trust with rave reviews from our experts and real users. But first, here's what you need to know about baby sleep sacks:
What Is a Baby Sleep Sack?
Think of it as a blanket that can't be kicked off during the night, a safer option that won't get tangled up as a baby moves, or end up over the face, restricting breathing. Baby stays warm and cozy, making a better night's sleep more likely — and when baby's sleeping well, parents sleep better too. And not to worry, the loose shape still allows plenty of room for kicking those little legs.
Are sleep sacks safe for babies?
Yes! Because sleep sacks fit more like clothing than a blanket, you don't have to worry about it posing a risk as long as it's properly worn. The sleep sack should never be loose enough that the material could cover baby's face. It's also safer than a swaddle blanket as baby gets older and rolls around because it doesn't restrict movement in the crib.
What should baby wear under a sleep sack?
Most of the time a long- or short-sleeved onesie is perfect for wearing under a sleep sack, but it depends on the temperature of the room and what type of sleep sack you're using. If it's a lightweight fabric, you can consider putting baby in pajamas underneath. If the sleep sack has long sleeves or added insulation, a thinner bodysuit should be enough.
Can Baby Overheat in a Sleep Sack?
Overall sleep temperature can be managed by adjusting what your baby is wearing underneath. Options range from just a diaper to a long-sleeve sleeper. A sleeveless sleep sack will keep things cooler as well.
What are the best sleep sacks?
Our Biloban's baby sleeping bag can meet most parents' requirements. Our Biloban sleep sack has a perfect print and a generous design that leaves room for kicking, plus a two-way zipper, nicely covered at top and bottom, to allow for easy diaper changes. Also available in blush pink and blue.
    COZY: Ideal for Spring and Autumn use (1.0 TOG) or for rooms with temperatures exceeding 21ºC. Sleeveless.
    SOFT: The outer shell, which consists of 100% ORGANIC COTTON, is SILKY SOFT to the touch, making it ideal for delicate baby skin.
    SAFETY AND COMFORT: Replaces loose blankets for safer sleeping. Additionally, they are fitted with ZIP PROTECTORS to prevent chafing and a TWO-WAY ZIP makes nappy changing easier.
    ZERO PLASTIC: We have waived the use of plastic. With our new sustainable packaging, we want a bright product inside and out.
    EASY CARE: MACHINE WASHABLE (40º), TUMBLE DRY at low temperatures. SIZES AVAILABLE:0-6months(S), 6-12 months(M), 12-18 months(L) and 18-36 months(XL).