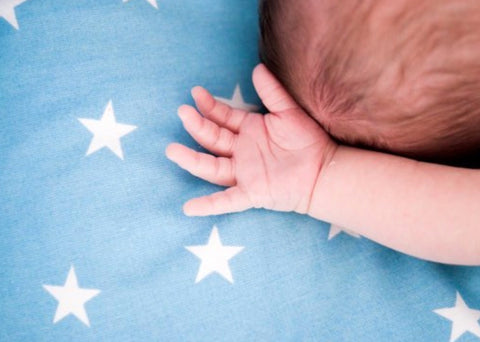 The American Academy of Pediatrics cautions against leaving loose blankets in your baby's crib, so how else can you keep your tot warm? Sleepsacks are here to answer the call for safer snoozing. Just make sure your baby is young enough that she doesn't have the strength to roll over into a prone position in a wearable swaddle.Here are some of the problems you may have when choosing a sleeping bag for your baby
Sleepsack material–fleece or cotton?
The material of the sleepsack is also an important factor to take into account.
All sleepsack materials are designed to be breathable and draw off moisture to prevent overheating. However, the materials differ based on their thermal effectiveness or insulation.
Cotton fabric tends to be more breathable and lighter compared to fleece. This means that on a chilly night, your baby may feel colder in a cotton sleepsack and warmer in a fleece one. Hence, a cotton sleepsack would need more layering to ensure the baby is warm and cozy.
In one of the parenting forums, a mom stated;
"My son cannot wear any fleece because he would boil in it but he is perfectly okay in a cotton sleeping bag".
However, when it comes to layering, you must consider the temperature in the nursery. This will help to prevent overdressing the baby or underdressing him.
More on what the baby should wear under fleece or cotton sleepsack
Should a baby wear a onesie under a sleeper?
Yes, it is perfectly okay for a baby to wear a onesie under a sleepsack. It is actually the best way to keep baby warm in moderate temperatures in the nursery.
However, if it is too cold then you may need to add more layers of clothing along with the onesie but reduce the layers in case it is too hot.
2.Can baby overheat in a sleepsack
One thing that causes a baby to overheat in a sleepsack is overdressing.
You may be tempted to add more clothing under the sleepsack especially when it is chilly. But, before doing this, consider the 3 factors we have discussed above; the temperature in the nursery, TOG of the sleepsack, and the material. These factors will help you choose suitable clothing for your baby.
3.Are weighted sleep sacks safe for babies
Sleep sacks are generally considered a safer option than blankets. However, not all weighted sleep sacks are safe.
The American Academy of Pediatrics (AAP) recommends parents to use only approved sleepsacks such as the Nested Bean, which is considered safe for babies.
4.How to dress baby for sleep in 70 degree room (21 degrees Celsius)
Temperature between 68 and 72 degrees Fahrenheit is considered safe for the baby to prevent the risk of SIDS according to the American Academy of Pediatrics.
Thus, 70 degrees is considered to be room temperature. This may be a little cold for your baby and therefore you may need to add a few layers of clothing under the sleepsack.
Ideally, dress the baby in a short-sleeved onesie, a footless romper, and a sleep sack to ensure they are warm and cozy through the night.
5.How to dress baby in a sleepsack at 75 degrees Fahrenheit (24 degrees Celsius)
In summer, the temperature may go over 75 degrees Fahrenheit, which is a bit too hot. Therefore, you need to ensure that your baby is not overdressed as this may lead to overheating.
Appropriate clothing for baby at this temperature would be a short-sleeved onesie under a sleepsack.
Another tip that parents use to determine how to dress a baby is to add one more layer of clothing than you are wearing in the same environment.
You must take into account the temperature in the nursery, the material of the sleepsack, and its TOG value. (If you want to know more details,please click here.)Basically, if the temperature is high, make sure that the baby dresses in a low TOG sleepsack preferably made of light and breathable cotton. In this case, the extra clothing maybe just a onesie. Conversely, if the temperature is low, dress the baby in a high TOG sleep sack that is preferably made of fleece since it is well insulated. Extra layering may include a footless romper, a onesie, socks, and hat depending on how cold it is.