Learn everything you need to know before you purchase.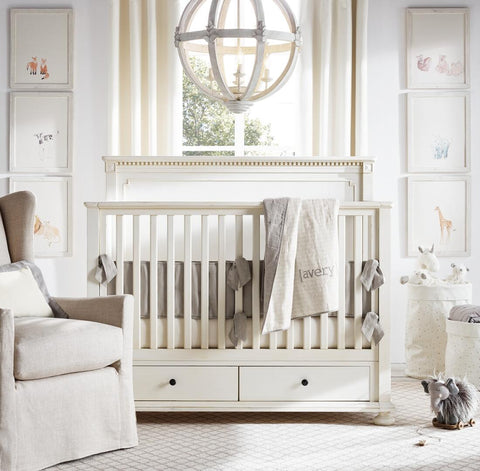 Crib bedding sets the tone and style of a nursery. It also plays an important role in the safety and comfort of your child. Learn what items make up the best crib bedding with the help of our guide.
Tip!
Start off on the right foot by choosing the right size crib and crib mattress. Learn more in our How to Pick the Right Crib Mattress Size and Crib Dimensions: Picking the Right Crib Size for Your Nursery guides.
Best Crib Bedding: Essentials
Crib Mattress Pad/Protector
A waterproof mattress pad and/or protector will help defend the mattress against unavoidable accidents. Both can also be hypoallergenic to fight against dust mites and allergens captured in the mattress. Mattress pads should be no thicker than one inch and should allow the mattress protector to fit snugly over the mattress. Both can create a comfortable, breathable sleeping experience for your little one while still working hard to protect against stains.
Shop Crib Mattress Pads
Fitted Crib Sheet
A fitted sheet is the most essential piece of bedding. Flat crib sheets should never be used in place of a fitted sheet. The fitted sheet should fit snugly over the mattress – not bunch up or loosen as the baby moves around. Most fitted sheets come in standard sizes, so be sure to select the correct shape and size for your crib mattress when purchasing.
Shop Fitted Crib Sheets
Wearable Blanket
Wearable blankets, or swaddles, can be used in cribs and are not considered dangerous for new babies. In fact, swaddling a newborn can be a helpful transition from the womb to the outside world by simulating the tightness and pressure of the womb. A swaddle can reduce the risk of SIDS, improve neuromuscular development, and help babies sleep longer.
Shop Wearable Blankets
Best Crib Bedding: Accessories
Additional bedding pieces, like comforters, quilts, and pillows, are decorative elements that can complete the look of any crib. However, these pieces should not be on the bed when you put a new baby down to sleep because they are considered suffocation hazards.
Shop Crib Accessories
Crib Skirt
Crib skirts, or dust ruffles, are purely decorative and therefore optional. They typically hang around the base of the crib, ending just above the floor. Skirts are an excellent way to hide any under-crib storage from sight.
Shop Crib Skirts
Quilts & Blankets
Quilts can be used once your child can stand or crawl outside of the bed. When a child grows up and transitions to a toddler bed, they can take the quilt with them. Other soft baby blankets shouldn't be introduced into your baby's crib until they are 12 mos. old.
Shop Quilts
Comforters
Like all other crib bedding accessories, comforters are not needed until your child is old enough for a toddler bed. Until then, use swaddles to keep your infant warm during the night. In the meantime, crib comforters can play a decorative role during the day.
Shop Crib Comforters
Pillows
Add a decorative flair to your crib bedding with colorful crib pillows and shams. Match them with your crib sheets for a uniform look, or go with a bold pattern or color to switch things up.
Shop Crib Pillows & Shams
Rail Guard Covers
Rail guard covers stop little ones from using the railings of the crib as a teething ring substitute without compromising style in the nursery.
Shop Rail Guard Covers
Crib Bedding Sets
Purchasing a crib bedding set allows you to complete your nursery all at once. The best crib bedding sets typically include a combination of essentials and accessories. Sets can include anywhere from two to 13 pieces. An example crib bedding set might include a fitted sheet, pillowcases, a blanket or quilt, and a crib skirt.
Shop Crib Sheet Sets
Best Crib Bedding: Features
Machine-Washable
Life will be much easier if everything in your baby's crib – from the mattress pad to the comforter – is machine-washable. Accidents are guaranteed, and if you can toss everything into the washing machine, you will avoid stress and anxiety and save time.
Healthy & Organic
Many people choose organic or chemical-free fabrics for their baby's crib bedding. If your baby has sensitive skin and is prone to rashes, opt for organic or chemical-free sheets. Also wash the bedding in a chemical-free detergent made for sensitive skin.
Fabric Options
A majority of crib bedding is made from cotton or a cotton-polyester blend. High-cotton blends or 100% cotton sheets are preferable for babies, but feel free to experiment. Monitor your baby's sleep and reaction to different fabrics to learn what works best for them. Seasonal fabric changes are also common. Flannel cotton sheets retain heat, which is ideal for a baby born in winter, while cotton-blend sheets allow air to circulate, keeping the baby cool in summer months.