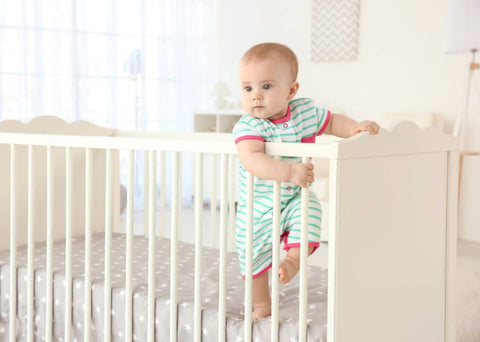 It may not seem like it, but newborn babies sleep for a grand total of 10.5 to 18 hours every day. Throughout their early development, it's important to ensure your baby is getting a good night's sleep in order to promote growth in both the brain and body.

But because your arms and chest aren't always available to be your baby's bed, one of the biggest questions is which kind of baby crib sheet is best for your newborn? There are a number of options to choose from, so we've outlined some of the best materials for baby crib sheets below.
Cotton
Classic, 100% cotton bed sheets are often the standard when it comes to choosing a baby crib sheet. This is often because cotton is a breathable fiber, therefore it keeps your newborn cool during the summer and warm during the winter. While it can be rough and scratchy at first, cotton sheets eventually soften while remaining surprisingly durable.

Additionally, 100% cotton sheets are hypoallergenic so you can be sure your baby won't be suffering from any skin irritations related to their bedding.

Polyester
Polyester sheets are another budget-friendly option for your baby's crib. While not as breathable as cotton, polyester is cheaper than cotton and is less likely to shrink in the wash. It's also far less likely to wrinkle, whereas cotton wrinkles incredibly easily. However, keep in mind that polyester may not be the greatest choice when the temperature begins to creep up.

Flannel
Like polyester, flannel crib sheets in your baby's crib may not make for the best choice during the warmer months. But when it's cold outside, flannel crib sheets are ideal for keeping your baby warm and are also incredibly soft.

Waterproof
Waterproof crib sheets and protective pillow cases are a popular choice for obvious reasons; however, the best waterproof crib sheets and pillow cases also offer the breathability, softness, and hypoallergenic qualities of 100% cotton crib sheets. Baby waterproof sheets and protective pillow cases will keep you from having to continuously buy additional crib sheets in the event that your newborn's diapers leak and leave a mess. Additionally, waterproof fitted bed sheets can be re-used as potty training sheets as your child grows and their crib becomes a toddler bed.

Even better, the zinc in the fibers of our waterproof crib sheets and protective pillow cases assist with reducing the odor of your baby's crib and help aid against skin irritation.

Baby protection
Regardless of which materials you choose for your baby's crib sheets, be sure they are fitted to the crib's mattress and do not exhibit any strings -- these may be a choking hazard to your newborn. Furthermore, be careful of fibers which may cause bunching and may loosen around your baby, creating an additional danger. Your newborn baby shouldn't just be comfortable in their crib, they should be safe and secure, too.