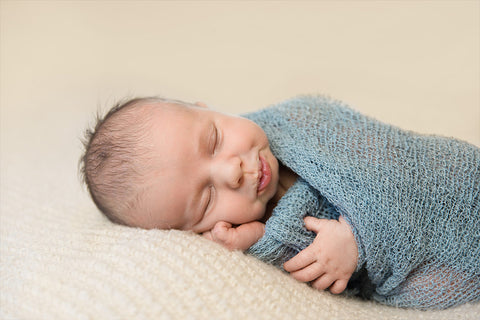 It may be hard to believe, but that tiny, sleeping baby you just brought home from the hospital will become mobile before you know it. You probably noticed when you were putting together your baby's crib that there are different crib mattress-height and crib sheets settings. Most parents opt for the highest mattress and crib sheets setting when their baby is a newborn to make the ins and outs of the crib less strenuous on their backs. But as babies grow, parents begin to wonder when do you drop your crib mattress and change the crib sheets?
The American Academy of Pediatrics (AAP) recommended that you lower the level of the crib mattress and crib sheets when baby is able to sit or stand up. And crib and mattress manufacturers agree. The website for the Dream On Me company noted that the time to lower the mattress and crib sheets is when your child begins sitting up. As noted on the site, "as kids get more active and move to pulling up and standing, you don't want them to climb or fall out of the crib." Because of this, you should make sure that the top of the crib rail is at least 26 inches from the top of the mattress, according to the AAP guidelines.
You don't have to drop the crib to the lowest setting right away. If you don't mind making the adjustments, you can periodically lower the mattress and crib sheets as your child gets taller. There is, however, a limit to how low the mattress and crib sheets will go. The AAP's recommendation is that children should be moved out of their crib and into a bed to sleep when they reach 36 inches in height. If you have a convertible crib, this may be the time to change it to its next incarnation as a toddler bed.
A 19-year study published in Pediatrics found that nearly 10,000 children per year were taken to the emergency room for injuries associated with cribs, bassinets, and playpens. This accounts for an average of 12.1 injuries per 10,000 children younger than two years old per year, 83.2 percent of which were specifically related to jumping or falling out of cribs. And the most frequently injured body region was the head or neck.
Crib safety should not be taken lightly. A baby who learns to sit today, can learn to pull up and stand tomorrow. Make sure that your crib (especially if using a hand-me-down) meets the newest safety guidelines and that you correctly install each nut and bolt when putting it together.