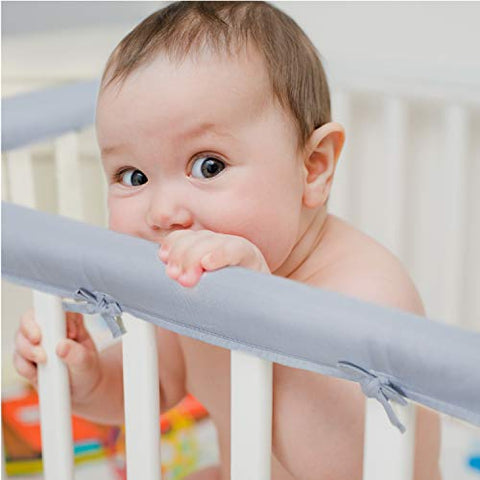 What is a Crib Rail Cover?
A crib rail cover is a piece of material that covers or protects the crib railing. We are asked this question ALL the time. People often confuse crib rail covers with bumpers. A crib rail cover is NOT a bumper. The crib rail cover is raised 18″ above the mattress, allowing air flow (the #1 concern with bumpers) and also has functionality (read below).
Why do I need a Crib Rail Cover?
Every baby goes through teething. During this phase, which can last for months, your baby will chew on anything that brings relief to his or her gums. This includes the railing on the crib. Adding a coordinating crib rail cover will ensure the longevity of the crib rail and protect it from teething marks.
What are the benefits of a Crib Rail Cover?
There are three benefits of using a crib rail cover:
When your baby chews on the crib rail, he or she risks ingesting wood splinters, wood stain, varnish or paint. That's not safe!
When your baby chews on the crib rail, it ruins the furniture. With many to most cribs being "convertible" (to a full-sized bed) these days, that means your footboard will be covered with chew marks. That's not good!
A crib rail cover is a perfect alternative to a bumper adding beauty to the crib bedding. Plus, you can monogram a crib rail cover to personalize the nursery!
What types of Crib Rail Covers should I shop for?
The most popular crib rail covers are made of fabric and then filled with a polyester fill or padding. This fill is the padding that you want when your baby is teething on the crib rail cover. Tip: Be sure and wash it before teething begins. And then, wash frequently as baby's teething and drooling will cause a mess. If you can swing it, buy a spare crib rail cover to have on hand while you wash.
Biloban crib rail covers are made with a great safety feature that you should look for:  the ties are secured through a button hole in the crib rail cover. That way, both ties are fed through the button hole and tied in a secure knot. We don't recommend Velcro or buttons for safety reasons. Crib rail covers that feature buttons are not recommended. Buttons can be swallowed and are dangerous.
Fabric crib rail covers come in a variety of different patterns and colors.  Depending on the size of the front panel of your crib, an 18"crib rail cover works on almost all cribs. There are some that require the 24" size in order to cover the front wood panel.
Crib Rail Covers – Here's the scoop on Don't
Always wash the crib rail cover before baby starts to stand up or pull up. Follow the manufacturer's instructions!
Never buy a used crib rail cover for sanitary reasons.
Take the time to learn how to secure the crib rail cover properly. With the style that Biloban makes, this means bringing BOTH ties through the buttonhole, pull tight and secure in a knot, and then a bow if you wish. Make sure it is secure and tight.
Wash the crib rail cover frequently to avoid mildew from the drool.