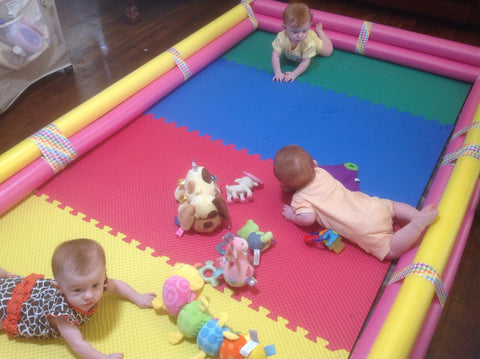 It's time for tutorial! This one is for a pack n' play crib pack n play sheet... such a simple thing, yet immensely practical and valuable to anyone with a baby. They are surprisingly easy to make... once you get the hang of it and know what you're doing, you'll be whipping these puppies out in 15 minutes! I think these things are all made in a standard size (38" x 26"), but you'll have to measure your pack n' play mat to make sure. Deep breath and here we go...
Disclaimer: In order to accomplish this in 15 minutes, use the "snip and rip" method to cut your pieces and also use a serger. If you don't have a serger, then you can use an overlock stitch on your sewing machine.
Materials:
1 1/2 yards cotton, pre-washed
Seam Allowance: 1/4 inch (serged or overlock stitch)
Instructions:
Step One: Quite the long materials list, eh? That's why I love this pattern... you don't have to mess with elastic! Ok, it is important to pre-wash your fabric. Otherwise, when your baby poos, pees and spits up on his/her nice new pack n play sheet and you go to wash it, it will SHRINK. It would be an utter waste of your 15 minutes. On the other hand, you don't want to sew your pack n play sheet too big, because nobody wants a saggy pack n play sheet... particularly the American Baby Association. So, do whatever tweaking you need to do in order to get your pack n play sheet fitting perfectly snug :)
Cut out your pieces. My preferred fast, and accurate way is the snip and rip method (see video for demonstration in my Ruffle Apron Tutorial). Rip out the large 49"x26.5" piece first. Then rip out two 29"x5.5" pieces for the side panels. I set my pack n' play mat in the back so you can see for comparison.
Step Two: Take your two side panels and serge along one of the long sides on each. The serged end of the side panel will face inward on the back side of your pack n play sheet.
Step Three: Line up the tail ends of the side panels and pin them to one short end of your pack n play sheet body right sides together. Make sure the serged sides of the side panels face inward. The ends of the side panels are just hanging down, unfinished.
Here is the serged end. It's hard to see the wrong and right sides of the this particular fabric, so I apologize. Make sure to sew everything "right sides" together.
Step Four: Pull the unfinished tail ends of the side panels until they meet with the opposite end of the pack n play sheet body that you just serged... this will cause the end to fold in order for those side panels to reach the opposite end. Now pin the side panel ends in place and serge down that side like you did the other side.
Now measure the length to make sure it is 38 inches. Take it in if you need to.
Step Five: Center the side panels. This should create about a 5-inch fold on each side. Pin along the long sides and serge.
Once again, measure to ensure that the width is 26 inches. If not, adjust accordingly.
Step Six: Sike! There is no step six... you're finished! Now turn the pack n play sheet right-side out and slip it over you mat.