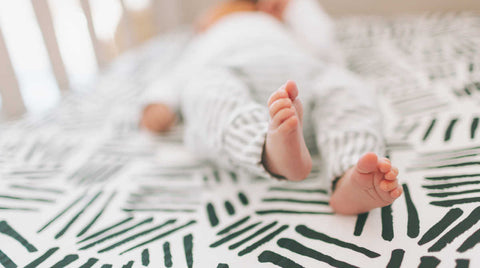 Didn't you just love the process of picking out all the fun baby room items for your kid's nursery?  Didn't you just love looking at all the pretty set ups in the stores exhibiting the cutest rooms ever?  And didn't you think your child's nursery was going to be just as beautiful as those set-ups every day? 
Your hopes and dreams were likely dashed after you got all that stuff home and had to put it together.  And then they were likely dashed again the first time you had to change the crib sheet.  The struggle to make everything just right in your child's room pales in comparison to the workout you get each time you need to change the bedding. 
I used to spend about 15 minutes changing the baby crib sheets.  I often broke nails and a sweat in the process.  It wasn't taking off the soiled sheet that was the problem.  It was putting on a fresh sheet that was maddening! 
And then I had an epiphany!  I love solving household problems!  And this solution made it no big deal to change the crib sheet on my sweet ones' little beds.  It now takes less than 60 seconds to switch-out the bedding.  Yes!  60 seconds!
Here is a tutorial of my quick and easy way to change a crib sheet:
Remove the soiled sheet, then:
Pull the sheet down to the bottom of the mattress (now lengthwise) and pull the bottom short sides of the mattress up off of the crib.
Stretch the fitted short sides of the sheet over the bottom of the crib mattress.
Turn the mattress back to its long side and place back in the crib.
The only thing that will make this process difficult is a crib bumper.  I recommend that you take the crib bumper out of the crib to wash before you change the crib sheet.  If you are not planning on washing the bumper when you wash your other linens, untie all the ties on three sides of the crib and lay the bumper over the remaining side of the crib for easy access to the mattress.