Is Organic Cotton Better For Babies?
Your baby is the most precious little human in your life. Naturally, we want to do everything we can to ensure they have the best in life.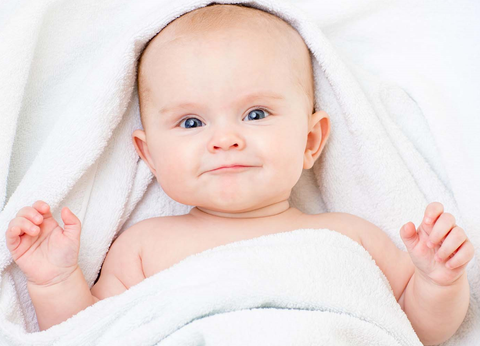 You may have already switched to organic food to guarantee they are healthy on the inside so why not ensure what touches them on the outside is organic too?
Organic cotton clothing and baby products have become increasingly popular over the past few years. More and more parents are opting for natural items rather than clothes and products drenched in chemicals.
Below we have compared why it is best to choose natural, organic products for your baby.
The big difference between organic and conventional cotton is the way the product is produced, and the amount of toxic chemicals used in the process.
Baby clothing and bedding that's made from conventional cotton uses an extreme amount of toxic pesticides and chemicals during the growing process. They then are heavily bleached and coloured with toxic dyes during the weaving process. During the production process of the clothes, there is widespread use of harmful toxic chemicals in the washing, dyeing and printing stages which have known to cause allergies, rashes and, respiratory problem. Tests have revealed these chemicals can be absorbed through the skin. Babies are the most vulnerable to such chemical exposure. 

For these reasons, contrary to common perception, organic cotton is a better choice. Here are 4 reasons for why you should be switching to organic clothing or bedding for your precious baby.

It Lasts Longer
Unlike conventional cotton, organic cotton lasts longer. Instead of having to buy a new set of baby bedding every month, one good quality products will last you for years.
This is because organic cotton's resilient fibers have not been damaged by chemicals during the growing and weaving process.
That makes the quality superior.
No matter how many times you wash it, or your baby wears it, it will age gracefully.

It's Free from Toxic Chemicals
It is extremely important for babies to sleep in bedding and wear clothing that is chemical free. Baby's skin is very sensitive and absorbent in the developmental stage. Their skin being more porous than adults, it absorbs more of everything it comes in contact with including the harsh chemicals from the clothes. Organic baby bedding or clothing certified by GOTS goes through a stringent process that regulates the use of chemicals on the organic product. No harmful carcinogenic chemicals are used on GOTS certified product. The processing units are held accountable during surprise inspections. Organic cotton protects and nurtures baby's tender skin.
Cotton is a natural fiber with soft, natural and breathable qualities. Organically grown cotton is the closest match to the organic skin of the baby as it preserves the natural properties of the cotton fiber. It is nature's protection to the baby's developing skin

Organic Cotton is Softer and More Comfortable
Organic cotton is naturally a very soft fibre. But when drenched in chemicals it often loses its soft touch and becomes coarse and scratchy, which causes discomfort.
When a baby is itchy, they become restless. By switching to organic, you're maximizing your baby's comfort and ensuring they stay cosy and itch-free, wrapped in soft clothing and bedding.
When taken care of properly, organic cotton can get softer with every wash.

It's Better for Your Baby's Skin
Organic cotton is gentle and kinder to a baby's skin. As the material is soft and free from chemicals, there is less of a chance of your child developing skin conditions such as eczema, dermatitis and skin allergies. As organic cotton always keeps its natural state, it makes it mould resistant and antimicrobial too.
When you choose 100% organic cotton fitted sheets, you are prioritizing not only a relaxing night but also your baby's overall well-being.Comfort is essential and, to be honest, is there really anything more blissful than diving into ultra-soft sheets? But aside from that, when you buy 100% cotton, which is one of the safest materials out there, you are also making the best decision for your baby's health.
Biloban 100% organic cotton baby bedding is made with GOTS certified organic cotton and have 360 degree elastic for a safe, secure fit, this kind of fabric is ultra soft, breathable and contains no substances or chemicals which may harm your baby's skin or health. So it is more suitable for baby's delicate skin.