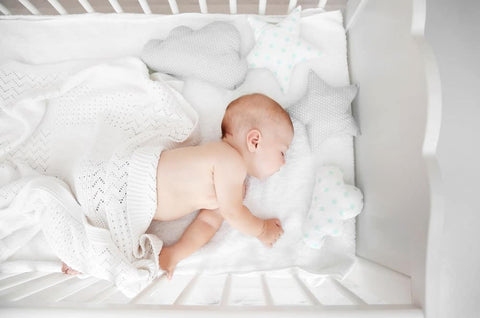 Your baby's crib bumper should always keep safe and dirt-free so that there is no hazardous element on their bed. To keep their crib bumper clean and germ-free, you need to wash their bumper regularly after a specified interval. And, it is imperative to offer them clean and hazardous-free crib bumper. Besides, their skin is too sensitive to tolerate any intolerable element on their bed. As a concern parents, you have to keep your baby's bumper dust-free as well as allergen-free to ensure their restful sleep at night. That's why you need to know, how to wash baby crib bumper and how often should you wash them.
Wash  crib bumper with a natural detergent
 A special detergent is recommended by the doctors to wash your kid's clothes and bed. Try to avoid using a detergent that has added dyes, chemicals, sulfates, or fragrances. Those substances are highly harmful to your little one's health. Generally, babies have low or no immune system. That's why they need the cleanest crib bumper, softest clothes, and cutest toys for their betterment. As parents, you have to ensure all of them to offer your baby a safer environment.
You can use a natural detergent to keep your baby's crib bumper clean and soft. Detergents having chemical fragrances may cause skin problem to your baby as they are very skin-irritant. Before washing your baby's  crib bumper, keep an eye on the bumper if there is any hole, or its ties are alright. If you see some stains (in most cases, you must see) as your little one is one of the quickest machines to make stains on their crib bumper. Use stain removal before let it go for the washing machine.
Use the lower cycle of your washing machine
Another essential thing to consider before starting washing them in the washing machine is a lower cycle of your device. As the faster cycle of your washing machine damages your baby's bumper's smoothness as well as softness. Besides, they get rough to sleep on. So, the lower cycle of your washing machine is recommended by the experts. There is an alternative, as well. If you do not want to wash your babies' bumper pads into the washing machine, you can hand-wash them to keep crib bumper pads as soft as before.
Remove stains from your baby's bumper pad
As a parent, you already know it that your little one is the fastest machine to make stains on the bed-sheets and the bumper also. While they take baby foods or formula, they often make stains on their bumpers as they are very fickle. Before going to wash it, you have to pre-soak the stains caused by your baby with detergent (natural detergent is recommended) and warm water. You baby's bumper pads or other items keep soft without any damage through the process of removing stains from them.
Take the temperature of your washing machine into consideration
You need to pick the right temperature while washing your crib bumper. The aim is to kill the bacteria from your little one's bumper. In this situation, it is recommended by the specialists that 60-degree centigrade temperature of the water for washing is perfect for killing all the bacteria and germs from your kid's bumper. Otherwise, if you choose a high temperature, it harms the crib bumpers, and they get damaged. After washing with the warm water, all you need to do is to iron them for the final use.
As you have already washed your little one's crib bumper with intensive care, it is time to dry them thoroughly. So let's talk about the drying process of your kid's bumpers now.
The drying process of crib bumper
Sometimes, it is seen that few parents use the dryer to dry their children's bumper pads. Though the process is fast, it is not recommended by specialists. Through this process, your crib bumpers may damage and lose their softness. The cotton fabric may also damage by the excess heat. Sometimes, they cause skin irritation and allergies to your baby. In this situation, natural sunlight can come into the play. It has no harmful impact on your child's bumper while drying them. In this process, your baby gets to sleep well on the bed as well. Just make sure all are adequately dried before placing them in your baby's crib to use.
However, your crib bumper gets wet frequently. In this case, you can use vinegar and baking soda to remove the stain from the bumper fast. You need to spread the baking soda over the spot your baby made and then soak it with mild hot water. It works well.
How Often Should You Wash Crib Bumper?
The crib bumper is the most popular and must-have items in your baby's bedding. It protects your baby from direct contact with the crib. Besides, it helps your baby keep in place and does not allow him or her to fall from the crib bedding. Baby's crib bumper also gets stained and dirty. For your baby's safety and clean environment, you need to wash the bumper as well. So, you should wash your baby's bumper just once a month, and it will do. But before proceeding, make sure there is any hole in the bumper or any unwanted stains to remove. Wash the bumper in the washing machine but make sure you are using the lower cycle of the machine. Otherwise, it also gets squeaks.