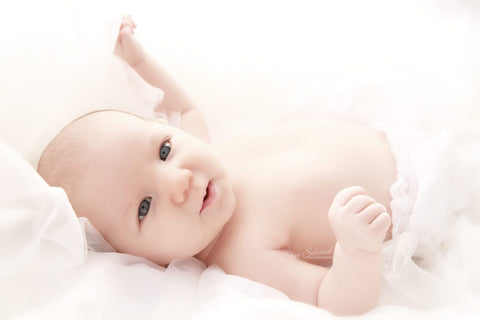 Getting ready for a new baby brings many emotions. It can feel as if there is no end to the things to think about and decisions to make. And while safety is always a concern, sometimes we are not aware of all the potential risks.
When it comes to getting a baby to sleep, we often think of routines, training techniques and sleepwear, but we may not give crib and crib sheet safety more than a passing thought. Cribs have to pass certain safety standards after all, so what more is there to think of?
Let me provide assistance in this area and give you some insights into setting up your baby's crib for a good (and safe) night sleep.
How to Set Up Your Crib for Safe Sleeping
Cribs are one of the items you may not want to get second hand (unless you know and trust the person that is passing it along). The crib should not be older than 10 years old, should not have drop down sides and should not be broken or modified in any way.
Follow all of the manufacturer's guidelines for proper setup.
Use a mattress specifically for the crib or bassinet and do not insert any additional padding.
The mattress should be firm and fit snuggly, with no more than two finger spaces between the edge of the mattress and the crib frame.
The  crib sheet ought to be made specifically for a crib mattress and should be tight fitting.
The crib must be free from anything that could cause suffocation or strangulation such as bumper pads, blankets, pillows, or toys.
The crib mattress pad may be at the top level when you baby is newborn, but should be lowered as your baby grows and is able to crawl and pull up on the sides.
According to the American Academy of Pediatrics babies should be placed in the crib on their back.
The Consumer Product Safety Commission recommends against any kind of sleep positioners.
There ought to be no cut-outs in the headboard or footboard where Baby's head could become trapped.
The corner posts need to be below 1/16th of an inch to keep Baby's clothes from getting caught.
If you are using a mesh-sided bed such as a playpen, make sure there are no holes in the mesh where Baby could get entangled. Make sure the mesh is less than ¼ inch so that small buttons can't get stuck.
Top Recommended Beds for Newborns
Before Baby actually sleeps in her own crib and on their  crib sheet , it's wonderful to have a portable bed set up next to your own bed for safe sleeping and convenient middle of the night feeding. Any one of these options will make life easier for you during the first several months of Baby's life. The AAP recommends against sharing a bed with your baby.
The Biloban  crib sheet  is a Babywise Wise Choice for good reason. Your baby can sleep safely right next to you in her own bed and the drop down side allows you to easily attend to all of the night-time needs.
The Biloban  crib sheet  is also perfect for the first several months with a high bassinet position that will transition to a lower position as Baby grows.
Buying and correctly assembling a brand new crib and  crib sheet  will ensure that all safety standards are met. When Baby is put down on her back and the crib is free from all other encumbrances, you can be assured that your crib is set up for peaceful sleep.