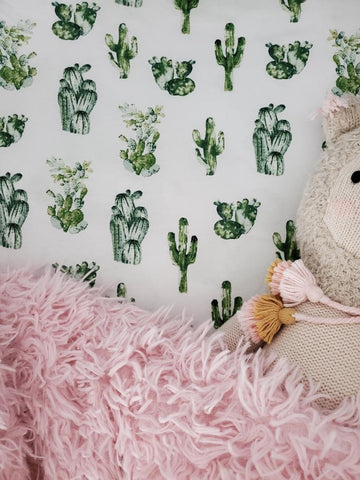 So, you've purchased a Pack and Play. Step one is complete. And, trust me, I know there's a lot of options out there when it comes to playards. There are so many different brands and accessories to choose from it can be overwhelming. When filling out my registry, I must've changed my mind 10 times. I ended up selecting a Graco Pack and Play with a changing station, side pocket for items like diapers and wipes and a bouncer on the other side. So, now that you have decided on which playard to get, what should you look at next? Likely, you should start looking into some pack n play sheets to go with your playard.
The obvious question you might be asking yourself as you read this: are pack n play sheets necessary? And, as a follow-up, do you also need pack n play sheets for a Pack n Play bassinet? I know I definitely did search a lot about pack n play sheets as I put together my registry. The answer, in my opinion, from both my research and experience is yes you will need a pack n play sheet or, better yet, multiple sheets (baby's definitely can quickly make a mess) to cover your pack and play mattress. You will want to cover your playard mattress to keep it clean and you will want a nice fabric so your little one can fall asleep comfortably. Additionally, if you opt for a Pack and Play bassinet, I believe the answer is also yes. The below list is my top picks on pack n play sheets but there are also so many great bassinet sheets out there. And, if you do some research you'll see many of these brands offer bassinet sized sheet options as well.
Before we get into my favorites, let me address another question many of you might be asking - can you use crib sheets for a Pack n Play? The safe answer in my opinion is no. The reason being that crib sheets won't stay securely in place to the playard mattress, which could make for a dangerous situation for your baby. After all, having loose bedding including sheets can put your little one at risk for suffocation or strangulation. When you are selecting pack n play sheets for your playpen you want to be sure that they fit securely and will not pose any potential risk to your baby.
Biloban pack n play sheets are my top pick because they are the safest pack n play sheets on the market and I have to say this brand really sets itself apart from the competition when it comes to baby safety. When it comes to my baby, safety is the top priority and I know all you new parents out there feel the same way. The concept behind Biloban is entirely different from anything else on the Pack and Play market. What is so different about Biloban? The pack n play sheets are made with an adjustable Velcro strap that fits around your Pack n Play mattress. This strap ensures that your baby's fitted pack n play sheets will stay secure even if he or she pulls at them. The pack n play sheets are made from 100% organic cotton and come in 4 beautifully simple colors that will match any nursery or household décor. Biloban pack n play sheets are the perfect pack n play sheets.
Thousands of babies die each year in the U.S. from SIDS. Biloban is devoted to safe sleep and is working hard to raise awareness about sleep hazards and efforts parents can take towards SIDS prevention. Right now there is still a lot unknown about sudden infant death syndrome, but there are many different steps parents can take to help protect their children and reduce the risks of suffocation and strangulation. Safe sleep practices include putting your baby to sleep on his or her back on a firm, flat surface. Safe sleep also includes making sure there is no loose bedding or toys in your babies sleep environment.