Creating a safe sleep environment is the most important consideration when it comes to baby bedding and keeping your little one safe.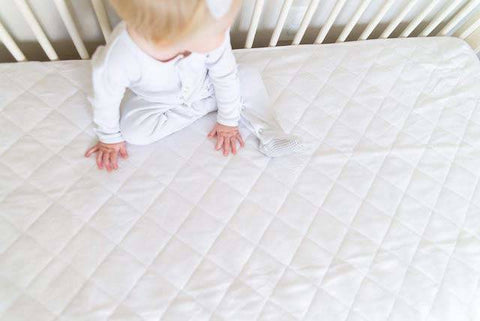 Since you, as an adult, sleep with a pillow, you might feel the need to provide your infant with a pillow to lay their head on.
But in reality, newborns don't need pillows to sleep. More than that, sleeping with a pillow can be dangerous for your baby. Putting a pillow in the crib or bassinet increases the chance that your little one will overheat or accidentally press their face into it, making it harder for them to breathe and increasing the risk of suffocation. That means no pillows, no crib bumpers, no blankets, no toys….
All that's required for your baby to sleep well is a firm bassinet mattress and a fitted sheet (and a waterproof mattress pad if you like). So how to choose a Bassinet Mattress?
A Firm Bassinet Mattress
For the safest sleep, a baby needs a firm mattress. But that doesn't mean that you have to sacrifice your little one's comfort!
For example, the Biloban's Bassinet Mattress is much more comfortable than traditional mattresses, which are made from premium high density foam and extra firm comfort for your baby. It also designed with air holes to ultimate the breathability of the mattress.
1. Certified STANDARD 100 by OEKO-TEX®, meaning this product surpasses the highest criterion of testing for harmful chemicals and synthetics
2. Carefully designed to fit your bassinet perfectly
3. Features hypo-allergic zippered cover that's removable and waterproof.
4. Easy care, the cover is machine washable.
Cite from www.newtonbaby.com