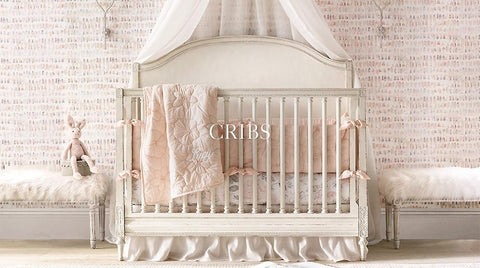 As parents, it's our duty to make sure our children grow up in a healthy and sustainable environment. Just as we care for their nutrition, physical and mental development, we should take into consideration the quality of bed linens and other home textiles items that surround our little ones.
So whether you're a first-time parent on the lookout for quality crib bedding or a seasoned expert with a couple of munchkins by your side who needs fresh ideas for baby room decor, we will try to answer some of the most frequent questions relating to baby bed linens.
What are the best fabrics for baby crib skirt?
It goes without saying that babies' skin is sensitive and requires extra attention when picking out items to wear or to sleep in. A general rule of thumb is to go with textiles made from natural fibers, such as linen and organic cotton, over anything synthetic.
Pure fabrics have incredible natural properties that can barely be fabricated. Both linen and cotton are known for absorbency and breathability, which means your baby will stay dry and comfortable throughout the night. Besides, linen is hypoallergenic and doesn't let bacteria, dust mites or other germs build up making it perfect for anyone with sensitive skin or allergies.
On the contrary, synthetic fabrics can agitate allergies and irritate the skin causing rashes. While they might offer a bigger variety or seem softer at first touch, always consider the process it took to make them look and feel that way.
Our Biloban's crib skirt are made from certified linen fabric, meaning it is absent of harmful chemicals but still very soft and cozy to the touch. If you decide to go with cotton, keep your eye out for the GOTS certificate.
What are crib bedding must-haves?
One mistake that most first-time parents make is overdoing it with accessories. As it turns out, having too many items in a baby's crib can be hazardous and lead to suffocation. The American Academy of Pediatrics claims the safest way for babies to sleep is lying on their backs, on a firm surface with little or nothing around them.
So if you're making a list of baby crib essentials, here's what you really need to get:
A firm crib mattress and a waterproof cover to protect the mattress from leaks, bed bugs, dust mites, and other indoor allergens.
A fitted crib sheet that will protect the mattress further but also enhance your baby's sleep. It's important to ensure the sheet secures tightly around the mattress and doesn't come undone while the baby is in bed.
A crib bed skirt could be considered for decorative purposes. They also cover up the under-crib storage adding a more sophisticated look to the nursery.
Other FAQs
How many crib skirts do I need for a baby's nursery?  
Crib skirts are some of the hardest working bedding items in your baby's nursery. That's why it's imperative you choose crib bed skirt that are sturdy, long-lasting, and easy to care for. It's best to have 2-4 fitted crib skirts on rotation so you never run out of clean laundry.
How often should I wash crib skirts?
We don't need to tell you that babies are messy. Spills, leaks, drools, etc. The top recommendation for washing baby's crib skirt is 1-2 times per week. The mattress cover should go in the washer at least once a week too to keep your baby happy and healthy.
When can a toddler start using a pillow? When it comes to pillows and other soft bedding items, the baby needs to be able to move on their own, meaning they can roll over, sit or stand. This way they won't get entangled by loose fabrics. Most commonly, it's after the child is one year old.