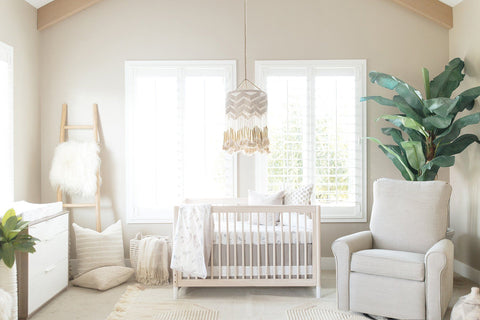 Removable Ruffle
Ruffled crib skirts announce a celebration -- and a lot of work. You want that mixed match-up of endlessly gathered patterns and colors to be just perfect, a scenario with no room for the bottom ruffle dragging on the floor by the princess's first birthday. While you're carefully constructing your crib-skirt confection, run a line of sticky hook-and-loop binding around the top of the last ruffle and the bottom edge of the backing to which the ruffles are sewn. Stick the bottom ruffle to the backing. The newborn gets the deep ruffle treatment; the toddler gets the short version with the bottom ruffle removed.
Short and Sweet
No rule exists mandating a crib skirt that dusts the floor. So start out where you plan to end up. Begin with a pretty crib skirt that's about 6 inches shy of the floor. When you lower the mattress -- sooner than you think you will -- the crib skirt will skim the carpet. If you don't want the crib skirt to disappear because of its brief, shorter incarnation, use a bold color -- lime in a turquoise and cream nursery -- or a wild pattern such as cartoon rain forest animals in tropical hues in an apricot or mint green nursery.
Tacked Up
The no-fuss school of nursery decor is happy to be tacky. Cut and hem separate crib skirt panels for each exposed side of the crib. If your crib sits against a wall, you can skip the crib skirt for that side. Tack each panel to the support platform under the crib mattress so the skirt just dusts the floor. When you lower the mattress, remove the tacks and adjust the length of the panels before re-tacking.
Easy Pieces
Cut two decks -- the flat, never-seen piece of fabric that sits on the mattress support panel under the mattress. Crib skirts are sewn to the deck, which holds the visible panels of the skirt in place. Stitch the main decorative crib skirt to one deck -- a nautical nursery might have a tailored blue-and-white striped crib skirt with inverted pleats. To the other deck, stitch a plain underskirt, which goes on the mattress platform first, under the main crib skirt, and is removed when you lower the mattress as the baby grows. For your nautical theme, the second skirt might be solid red, or a pattern of blue-on-white sailboats or stars.