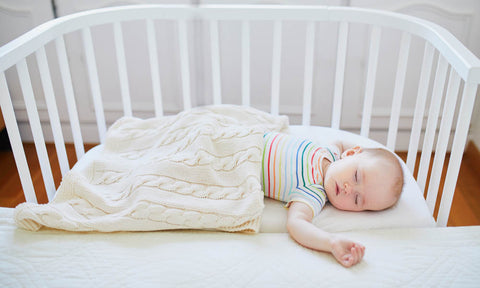 As an expectant or new parent, you're probably wondering, "How many bassinet sheets do I need?". While sorting things out as you get ready to welcome a new little one into the world, it's helpful to have an idea of where to begin.
This is where Biloban Baby steps in to help you make an informed decision. In this article, we'll answer the question of how many bassinet sheets you really need.
But before we get to that, we'll cover general questions that parents may have in regard to their baby's bassinet and bassinet sheets, so take a look!
Why Do I Need A bassinet Sheet?
Your little bundle of joy will need baby items that are not so little, including a bassinet. In addition to your baby's bassinet, you'll invest in a mattress, like Biloban Baby's Basic bassinet Mattress. And to cover, protect, and preserve your baby's mattress, you'll need a bassinet sheet.
(Unless you're using a Biloban Baby bassinet mattress pad, of course! Our  bassinet mattresses pad come with a soft, breathable, washable cover. And unlike other mattresses, ours are made with a Wovenaire Core that's much more breathable and more comfortable.)
But if you don't have a Biloban Baby bassinet mattress or you simply want to add to your little one's comfort, the right bassinet sheet can be just the ticket!
Plus, with the variety of colors and patterns to choose from, bassinet sheets add to the aesthetics of your baby's nursery.
Biloban Baby's Breathable, Organic Cotton Sheets
Biloban Baby's Breathable, Organic Cotton Sheets are soft and safe to use with our mattress. The breathability factor in our sheets allows for superior airflow, which keeps your baby comfortable and promotes better sleep.
The all-around elastic guarantees a safe, snug fit for any bassinet mattress. Made from organic muslin cotton, our sheets provide a soft and gentle sleep experience for your little one.
Take a look at the many benefits of our bassinet sheets:
100 percent breathable - Babies can breathe straight through our sheets!
100 percent washable - The pre-shrunk, organic muslin cotton is machine washable for the most hygienic sleep surface.
100 percent comfortable - Our sheets are incredibly soft and cushy on a baby's skin. They're also hypoallergenic.
Additionally, we've found sweating to be one of the reasons that many babies wake up in the middle of the night. And most bassinet mattresses and sheets increase sweating rather than decreasing it.
But with Biloban Baby's bassinet Sheets, your little one can say goodbye to sweaty backs and hello to longer, more restful sleep! Our breathable bassinet sheets are ideal for keeping your little one cozy, comfortable, and safe overnight.
Every Biloban Baby bassinet sheet is just as breathable as our mattresses, providing a safe and gentle sleep experience and superior airflow for newborns and babies of all ages.
How Many bassinet Sheets Do I Really Need?
After taking all of the above information into consideration, it's time to decide how many bassinet sheets you really need. You'll want to evaluate your family's needs and size to truly answer this question.