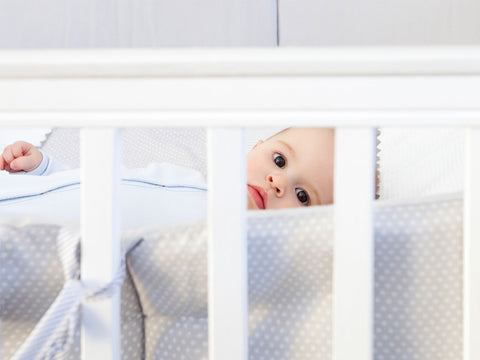 Are you considering purchasing a crib bumper for a baby on the way? Fluffy, patterned, and soft to the touch, crib bumpers have been sitting on the shelves of mainstream retailers for decades.
Though seemingly harmless, crib bumpers can actually increase the risk of SIDS. From 1990 to 2016, 107 fatal and 282 nonfatal incidents (related to suffocation, strangulation, and entrapment) were directly connected to crib bumpers. Even scarier? In the more recent years of the study (2008 to 2012), the annual rate of crib bumper-related deaths nearly tripled.
Dr. Edward Kulich,The Baby Sleep Doctor, says crib bumpers should "absolutely not" be available to consumers, and he gave us three reasons why he recommends parents keep crib bumpers far away from, well, the crib:
Until about 3 to 4 months old, babies don't roll, and it's unlikely an infant would generate enough force to be injured.
Before 4 to 9 months old, babies can roll face-first into a crib bumper — the equivalent of using a pillow. There's certainly a theoretical risk of suffocation.
After 9 to 10 months old, most infants can pull themselves to a standing position and use the crib bumper as a step to fall out of the crib.
The American Academy of Pediatrics also states crib bumpers should never be used — and the warnings don't stop there.
Alison Jacobson, aka "The Satety Mom," lost her son, Connor, to SIDS, and now she's the CEO of CJ First Candle, an organization that works to prevent and eliminate SIDS.
"There's just no need for crib bumpers," she urges. "Parents worry about their child getting an arm or leg caught in the rails, but crib bumpers can lead to major issues."
The potential danger related to traditional crib bumpers is clear. For many parents, however, bumpers are still an essential part of outfitting their little one's crib. Jacobsen, who works with families that have trouble parting with the idea of crib bumpers, recommends going the mesh route.
"Some parents will be purists and choose nothing at all, but for parents who want to use a crib bumper, mesh is the only way to go," she says.

Mesh crib bumpers are not the only alternative options on the market. Vertical crib bumpers and crib rail covers offer parents the same peace of mind knowing that their little one is safe without worrying about the looming fear of SIDS.
Ditch the idea of bringing home a crib bumper all together, and opt for a safer alternative. Here are nine of our favorite crib bumper alternatives for the parents who won't go completely bare.