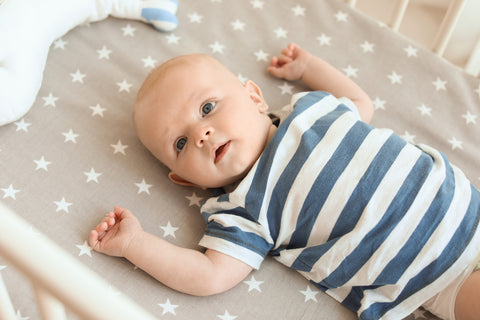 What does standard size mean?
Standard size refers to crib sheets and mattresses that are 51 5/8 inches long by 27 1/4 inches wide by 5 1/2 inches thick. Not all baby sheets and mattresses are standard size, however, so you will want to measure your crib mattress and make sure that the baby sheets you select will fit.
Will the crib set I've chosen include sheets?
Most crib bedding sets do include a fitted crib sheet along with a quilt, bumper, bed skirt and decorative pillows. It is a good idea, however, to buy plenty of extra fitted crib sheets, even if the crib set you've purchased includes one. Just like your own sheets, baby bed sheets get dirty and need to be switched out on laundry day, or after a messy diaper or spit-up, so be sure to have plenty of extra crib sheets on hand for when you need them.
Can baby bed sheets contribute to SIDS?
Ill-fitting crib sheets can, in fact, increase the risk of SIDS in infants under 12 months old. To reduce the risk, make sure your fitted crib sheets fit tight and snug against the mattress to prevent suffocation, overheating, and tangling in loose sheets. The crib mattress should also be firm and snug, and it is recommended that babies are laid on their backs in a crib with a fitted sheet only — no blankets, pillows or stuffed animals.
What are the best fabrics for baby crib sheets?
You'll want whatever baby bed sheets you choose to be gentle to a baby's skin. Baby sheets made of 100 percent cotton or a high-cotton blend are the best sheets for a crib. You may also want to consider organic fabrics for your baby bed sheets, as many babies are irritated by the chemicals used in traditionally manufactured sheets.
Will the crib sheets I buy fit on a toddler bed when my baby gets older?
Most standard crib sheets and mattresses will fit a standard toddler bed, making the transition from crib to toddler bed easy for both the child and the parents. You may want to plan ahead and select baby bed sheets with patterns your child will love when he graduates to his new bed.