A sheet is a fabric that is put as a layer just beneath the blankets and also it covers the mattress. A pack n play is used a lot by parents since it is portable and it can also be used as a play yard.Many parents who are using the pack n play for the first time ask this question whether they need sheets for pack n play.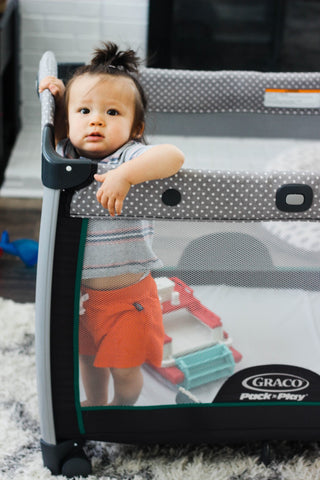 There are several factors that will guide us through the decisions we make.Let us find out why we may or may not need sheets for a pack n play.
Mattress protector
Babies get diaper blowouts and drool and even spit-up. If the baby is in the pack n play, then these actions may stain a mattress. This is why sheets are important in a pack n play. The sheets will catch and hold most of the dirt and you can replace the dirty sheet with a clean one. The mattress could really get messy if it does not have a removable cover.A sheet on the pack n play mattress pad helps keep the mattress last longer.
Easy cleaning
Sheets are comparatively easier to clean and dry than a mattress pad. Wiping a dirty mattress down with your hand is worse than throwing the dirty sheets into a washing machine.Also drying cotton sheets are faster than thick pads. For a mattress, it may take significant time for drying after washing. So using a machine washable sheet on the mattress saves you from all the wipe cleaning hassle.
Softer and cozier
If you let your baby take naps in the pack n play I recommend using a jersey-knit cotton sheet on the pack and play mattress. Normally mattresses are hard for kids to sleep for a long time and many of them make noise when babies move.So there is a good chance your little one will suddenly wake up and start to cry because of the uneasiness and sound. Cotton sheets are much softer and noiseless. Your baby will love the coziness and warmth while sleeping. It will give them a better and complete nap.
Ensures baby's good health
When you request a crib for your hotel room on a family vacation, they might get you a mini crib or pack n play without any sheet. For the sake of your child's health, you should take a sheet and put it on the mattress. That's how you don't have to worry about the cleanliness of the unit you received.If your baby shares a pack n play at the babysitter's house or daycare it is better to use a sheet for your baby. As many kids stay there and that unit might not be healthy and fresh.
Convenient option
When your kiddo makes a mess on the playard mattress, you will not be able to use the pack n play because you have to wash and dry the pad.That's inconvenient. But if you have a set of 2 sheets then you can easily change the dirty one with the fresh one. That's how you will be able to use your pack and play.
So do you need sheets for pack n play? I hope you already have your answer. Pack n play do need sheets for a few reasons. Using sheets on your pack n play will make cleaning a cinch and provide a more safe sleeping environment for your baby.What's more, sheets are easier to clean and dry when your munchkin makes a mess. It prevents mattresses from getting trashy and stinky.They are baby skin-friendly and super soft that helps little ones to sleep better and make them feel loved.