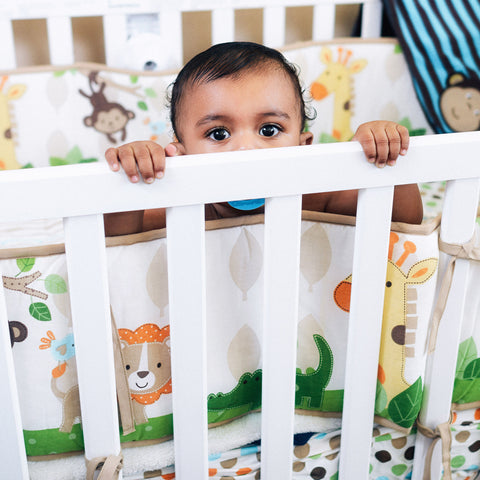 When we become a mother, we always face different kinds of problems.Here is a mother's account of her problems.
One thing I didn't expect my daughter to use as a teether: her crib.
But lo and behold, a few months ago, I walked into my tot's room after naptime and found her gnawing on her crib's top rail. I looked closer and saw lots of teeth marks on the wood, not to mention chipped paint.
Now, however, my daughter no longer chews on the wood and paint. The reason: Two swaddling blankets tightly tied around the crib top protect the furniture from my daughter's teeth (and my daughter from the wood and paint).
In fact, the blankets have done such a good job at keeping my daughter's mouth at bay that today's hint is to skip shelling out cash for crib rail childproofing products in favor of my super easy DIY crib teething guard solution.
Not only does this approach save you  $15 to $50, it also provides a new use for old swaddling blankets, which otherwise would be lying unused in a drawer or packed away somewhere (kids who are standing and chewing on the crib top are almost certainly not going to bed swaddled). And like all crib teething guards, it helps protect the crib and keep it in good shape for any future kids or for resale. It may also work even better than store-bought solutions, based on some reviews.
To be sure, for those of us with anxiety, having a blanket anywhere near the crib can be scary. And during the first few nights our homemade solution was up, I did feel a little nervous. But the blanket is tied so tight that even I have trouble undoing it and if it comes undone, it wouldn't be the end of the world. By the time a child gnaws on a crib, they probably can sleep with a blanket too.
But if you don't want to go the blanket route, the good news is that there are other DIY options. Blogger Baby Rabies, for instance, offers a tutorial on how she made a pretty guard for her son's crib, and if you're not so crafty, there are instructions online for how to make crib teething guards with no sewing required. Blogger Simply Abby offers a step-by-step how to for an easy DIY crib teething guard, and you can find other instructions here and here.
What are you tricks for protecting cribs from little teeth?
Learning the lingo for anything new can be daunting, but when it involves raising another human being, the task can be terrifying! You want your new baby to be happy and healthy, and we know just the things to keep it that way! Let's talk about how helpful and stylish crib rail covers can be! Ultimately, the crib rail cover is a rail guard that covers either the front, back, or both crib rails on your baby's crib. Most of the time, new moms cover both railings to ensure their baby is protected. The purpose of a crib rail cover is to prevent your baby from biting the crib during his/her teething phase. It also keeps both the baby and the crib safe from each other! First, and most importantly, the crib rail cover protects the baby from possibly ingesting the stain, paint, or whatever coating was used when making the crib. If you own a crib made of wood, the crib rail cover is even more important because it protects your baby from potential splinters if he/she were to gnaw on it with sensitive gums.
In addition to protecting your precious new baby, you also want to protect your crib! You invested a lot of money into it (I'm sure), so you want it to last, especially if you are looking to save money in the long run. Trust us, you're going to want to have the extra cash to spend on something other than a new crib. And if you keep the first one perfectly pristine, you can reuse it for baby number two! The crib rail cover will help with all of this, protecting the rails from tiny teeth and protecting your baby from potentially damaged gums
Practicality aside, you also want it to look cute! Crib rail covers come in all shapes, materials, and designs, ranging in different colors, ruffles, bows, scalloped edges... if you can think of it, they probably have one like it! But which one is the best? If you want to add color to your nursery and keep with your nursery design, then a crib rail cover made of fabric will be best suited for you. Not only is it softer to teethe on, it also provides padding around the hard bars and railings just in case your baby tumbles around. Choosing a crib rail cover made of fabric is also beneficial because it absorbs moisture quicker (teething = lots of drooling!), and it's widely available and easy to clean. You just have to throw it in the washing machine. Most fabric crib rail covers tie to the railing to secure in place with ribbon, Velcro, or fabric ties. The way the crib rail cover attaches to the crib is important because it keeps it in place when your baby starts becoming more active and possibly tugging on it. You don't want it to easily come off.
Plastic crib rail covers are perfect for moms who don't want to cover up or hide their cribs. These crib rail covers are transparent, so they're barely noticeable, but still equally effective at protecting both your crib bad your baby. You can easily slip the plastic cover over the railing and leave your crib free and open for your friends to admire when they come check out all your cute nursery designs. A downside to this plastic crib rail cover is it's easy on, easy off adherence compared to the fabric covers that tie onto the railing. If your baby is utilizing those baby Einstein videos, he/she may be able to quickly figure out how to pull the cover off. Then you're back to square one! Just some things to consider when picking yours out. Before you make your final purchase, make sure that your crib rail cover fits your crib. Not all of them are made to fit all cribs. And remember, this is your nursery! Whatever you decide will be perfect for your baby! What experiences have you had with crib rail covers in the past? Any other tips for new moms out there? Answer in the comments below!