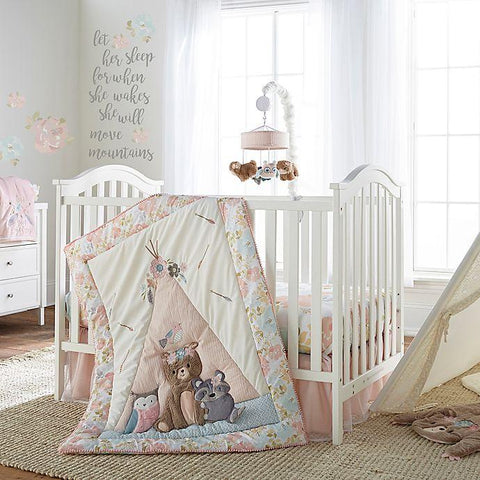 Bumpers, teething gaurds, and crib skirts, oh my! What does all of this mean? And why do I need any of it? Becoming a mom is overwhelming enough as it is if you've never experienced it before. Now you're having to also read up on how to keep yourself healthy and happy before the baby arrives, and you have to practically learn a new language to understand it all! Don't worry. We will help you! There won't be any pop quizzes. But if you're looking for the answers, we have them! To ease you into the excitement of baby bedding, we'll focus on one thing at a time.
What is crib skirt?
Let's start with crib skirts. A crib skirt is exactly what it sounds like; a skirt running along the bottom portion of the crib, just like the bed skirt (or as some people call it, a dust ruffle) you may have on your own bed. They come in a variety of colors, lengths, and designs, and can definitely add flair and function to your nursery designs, whether you are having a boy or a girl! Here at Biloban, our crib skirts are about 17 inches in length (from the edge of the crib to the floor), are 4-sided, and come in a variety of styles, like ruffles, flat panel, metallic, or lace.
The crib skirt must fit your crib
Before you pick your favorite, though, make sure that one will fit your crib! Similar to the skirts, cribs also come in all sorts of sizes and designs. Some of the more modern cribs don't even allow for a skirt to be added (I know, crazy) and some cribs that do work with a crib skirt, won't show it very much. No worries if this is the case with your chosen crib, since many manufacturers sell their crib bedding as seperates in addition to the typical sets that include a crib skirt. So hopefully you've figured out that the first step in choosing your crib dust ruffle, or crib bedding for that matter, is to choose your crib and inspect it a little bit.  Be sure to look for any hardware that might keep a skirt from hanging down properly. I know, I know obvious right? Well pregnancy brain does happen so we're just being clear here.
Your crib's location
  If your crib DOES allow for a crib skirt, the second step is to figure out the placement of the crib in your nursery. Crib skirts all function the same, but depending on who you purchase from, they may have 3 or 4 sides that hang down.  If you are wanting your crib to be in the middle of the room or stick out from the wall from the shorter side, you may want to ensure the crib skirt you purchase has all 4 sides.  Crib skirts that come with 3 sides typically only have one long panel and the 2 shorter ones.
The space under the crib skirt
Additionally, your crib skirt doesn't have to only be used just as decoration. There's extra space under your crib; utilize it! Your baby will have lots of necessary items (diapers, wipes, blankets, onesies), but there will also need to be room for toys once he/she gets older. Whatever it is you have in your nursery, you can use the space underneath the crib for storage. And no one will even know! Your crib skirt can conveniently and stylishly cover it up and hide it away! Talk about multitasking! What are some of your favorite ways to multitask as a new (or experienced) mom? How else can other moms get the most out of their crib skirts? Tell us in the comments below!