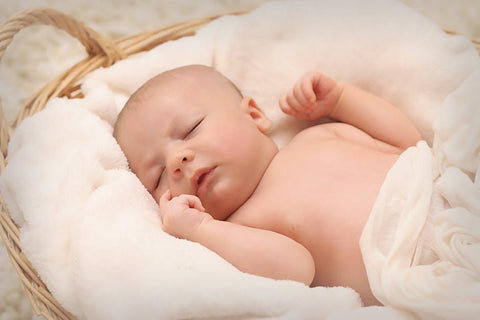 If you are trying to find the best pillow for your toddler then you will need to take the following points into consideration.
Know your toddler's allergies
Let's say that your child is allergic to wool. It goes without saying that you would not buy your toddler a wool pillow, which would only aggravate his allergy.
By being aware of what your little one is and isn't allergic to will help you narrow down the perfect toddler pillow.
Satisfaction guarantee
Many toddler pillows offer a satisfaction guarantee. Some are as low as 90 days while others offer a guarantee period of three years.
A guarantee will vary from brand to brand but it will generally cover poor workmanship, torn seams or loss of shape.
A longer guarantee may indicate a better quality toddler as the company is willing to stand behind it's product.
The top three toddler pillows in our review below all have a guarantee of varying length.
Firm vs soft
You will need to strike up a delicate balance between comfort and support. If you press down on a pillow and it does not regain its shape then the pillow is too soft and is unsafe for your toddler to use as it poses a suffocation risk.
On the flip side if you press down on the pillow and it doesn't move at all then the pillow may be too hard to provide comfort.
While the majority of toddler pillows have been designed to provide optimal support, it is still something to take into consideration.
Pillow cover material
The outer part of the toddler pillow is generally made from cotton. Be mindful that when choosing a pillow that cotton can be regular or organic.
Organic cotton lacks the harmful toxins, bleaches, and dyes that ordinarily go along with the cotton manufacturing process.
Needless to say, you don't want your baby breathing in these industrial materials while sleeping.
Organic toddler pillows will always be clearly marked. If you cannot figure out if a toddler pillow is organic or not then it is better to use caution and assume that the pillow isn't.
Common toddler pillow cover materials include:
Cotton
Cotton polyester blend
Synthetic fiber
Thread count
If you have ever purchased new bedding then you may have come across the term "thread count". Thread count refers to the number of threads per square inch of fabric.
The higher the thread count, the silkier and more durable the pillow will feel. Toddler pillows with a high thread count are less scratchy and more comfortable than those with a lower thread count.
Pillow fill material
Beneath the pillowcase hides the material that keeps your child's head supported and comfortable.
There are many different materials that can be used to fill toddler pillows. From foam to buckwheat there is a huge variety to choose from.
Biloban Baby Bedding
is a manufacturer of baby bedding products. Our aim is to offer super comfortable baby bedding products in affordable price.