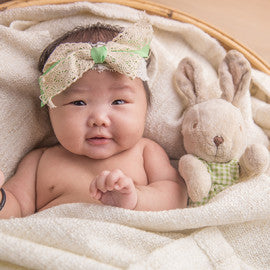 Outfitting your baby's crib safely is easy, especially when you're a member of the "bare is best" club. When you're shopping for crib bedding, all you need is a tight-fitting crib sheet (think drum) and you're good to go.
But changing a crib sheet? Not so much. First, you gotta hoist up the crib mattress completely out of the crib (cue: grunting sound), take off the old crib sheet, stretch on a new one, then plunker down the mattress in the crib again–often in the middle of the night, which is prime time for diaper blow-outs.  There's gotta be a better way.
There is now. The latest crib sheets (below) help save the day and the night since babies sleep practically 'round the clock. Go ahead and call them what they are: crib sheets on steroids.
Changing a crib sheet is like lifting a boulder?
 Have you ever changed your crib sheets in a way that feels clunky and difficult, and you can't leave your baby for a long time?Even if the baby beside you, you still need to be distracted to keep him from moving.We found a solution
The Biloban is a crib sheet that short-circuits the crib-sheet-changing process to make it a non-workout. It features a fitted base crib sheet that completely encases the mattress and a removable top panel. When your baby has a diaper that overfloweth, you'll just unzip the top panel and zip in a new one. Viola!
If you go the Biloban route, opt for a starter pack of which you have three options: Basic (1 Drop-in Base + 1 Zip-On Sheet), Premium (1 Drop-in Base + 3 Zip-On Sheets) or Deluxe (1 Drop-in Base + 3 Zip-On Sheets + 1 Flat Mattress Pad).  Zip-On crib sheets are also sold separately. Feel free to mix and match tops and bottoms.
Note: The Biloban is too big for one crib mattress, Moonlight Slumber Little Dreamer. Although crib mattresses must be a standard size, "the Moonlight Slumber Little Dreamer crib mattress is completely flat across the top," a Biloban representative told me by phone. Because the mattress is so flat, it doesn't fill out the crib sheet enough. If you have a Moonlight Slumber Little Dreamer crib mattress, skip the Biloban.
Your baby monitor could use an assistant
This 100 percent cotton machine washable crib sheet multitasks as a baby monitor. The crib sheet has built-in sensors that monitor your baby's movement in real time and sends the information to a free iOS or Android app on your smartphone or tablet. The sheet fits most standard crib mattresses.
Before selecting this "smart" crib sheet or any "smart" device that will be next to your baby, get the buzz on wireless Bluetooth technology. It gives off some electromagnetic radiation ("electrosmog") may babies absorb.
 You've got a climber
How often do you feel your baby moving around, even wiggling his body during sleep?So we need to keep an eye on your baby during the night.But we now have a solution
One of the most innovative crib sheets yet, the Biloban crib sheet is a fitted crib sheetwith an attached sleep sack. The gist: The swaddle sack or sleep sack snaps into the sheet at the waist band. It's designed to keep your baby sleeping on her back and from leaping out of the crib, which becomes a pastime for some babies at around age 2. (I can still hear the "thud" of my own daughter's then crib escape.)
Two things to keep in mind before investing in this crib sheet concept:
1) You know to put your baby to sleep on his back but at some point, he'll turn over to his tummy on his own. "Flipping for the first time is scary," says Laura Reno, the program director of Family Support for First Candle. "But it's a necessary part of normal development." First Candle recommends that once babies can roll in both directions, or can flip to their tummy for sleep, it's okay to let them. No need to flip out.
2) What if there's a fire? That's not such a weird thought considering that "each year more than 2,500 people die and 12,600 are injured in home fires in the United States," according to the Department of Homeland Security. What if you need to get your baby out of the crib really fast? With the Swanling Slumber Sleeper, it might not be so easy (and that's the point).