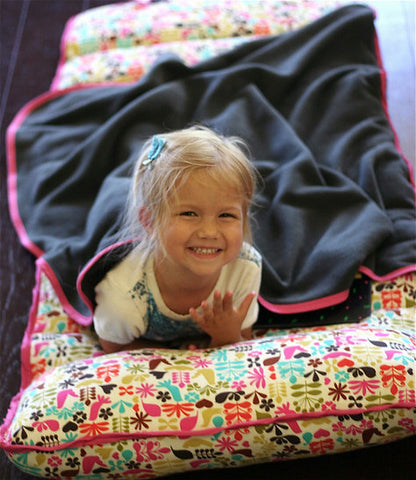 As every parent knows, nap time is an absolute must for little ones, and toddler nap mats make the perfect spot for your toddler to nod off after active playtime. A necessity for daycare and preschool, the portable bedding provides a cozy space for your tyke take a snooze in soft, cushioned machine washable styles. toddler nap mats are also great for family road trips with fun options designed for bigger kids too! We've rounded up the cutest, comfiest, colorful mats for tuckered tots to catch a quick catnap.
What Is a toddler nap mat?
A toddler nap mat is a piece of material that provides a soft place for a child to sleep in the absence of their regular bed. They are usually lightweight and portable, and come in a variety of styles including:
toddler nap mats keep a child physically comfortable when sleeping on the floor, but they also offer a hygienic barrier from the ground. They help delineate a special space reserved for the child to keep them from leaving their bed, and a regular toddler nap mat offers them familiarity even when sleeping away from home to help them settle down and sleep.
Finally, toddler nap mats are easily washable, unlike a mattress or a carpet, so they are often used in childcare centers to help ensure children have a comfortable yet hygienic space to sleep and to prevent the spread of germs.
What To Look For In Nap Mats
When shopping for a toddler nap mat, consider the following:
Size:Your child needs to fit on it. Choose one that is big enough — and that they won't outgrow too quickly.
Portability:You want a toddler nap mat to be portable and easy to store. Unless you expect your toddler nap mat to be a semi-permanent fixture in your home, avoid institutional toddler nap mat. While more durable, they tend to be rigid and don't collapse very well.
Cleaning Instructions:If you're choosing a toddler nap mat for a potty-training toddler, consider choosing one that isn't absorbent, will protect the carpet below, and can wipe clean after accidents. If you're picking a toddler nap mat for an older child, you might want to focus more on comfort and choose a soft toddler nap mat that can be thrown in the washing machine to clean it.
The Best toddler nap mats
As a busy mom, you'd probably be thrilled to get regular naps in every day, but what can I say, toddlers don't think the same way. To make sure your little one gets quality rest when they do eventually relent and take their naps, choose a toddler nap mat that's up to the job.
Our Biloban's toddler nap mat comes in tons of colors and designs, so there's bound to be one that your toddler will be excited to sleep on. It has a removable pillow so your child can use it or take it off, based on their preference.
It rolls up to be easily portable and has attached carrying straps.
It has an attached blanket so your little one can't lose it or kick it too far out of reach, and has a cotton flannel interior for maximum comfort. The thickness is about two inches, so your child won't awaken if they scoot too far off to the side and fall off the toddler nap mat.
And, best of all, it's completely machine washable in case they have an accident.