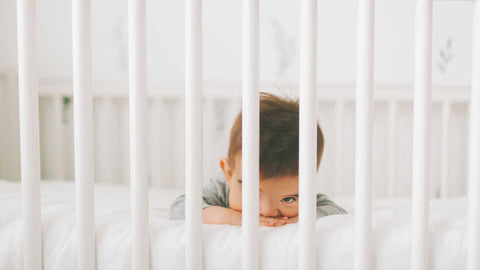 What you need to concern yourself with when purchasing crib sheets is that they stay on nice and snug. Crib sheets that are not pre-washed by the manufacturer are likely to shrink. Those that only have sections of elastic rather than elastic encompassing the sheet may also refuse to stay in place.
To better prevent this from occurring, look for crib sheets that have elastic the whole way around the sheet, not just at the corners. Ideally, 100 percent cotton sheets will hold up the best after repeated washings, though they may tend to be a bit wrinkly when coming out of the dryer. If that bothers you, look for cotton blend sheets that have a higher ratio of cotton.
A very practical suggestion is to give your crib sheets a test run. Wash them several times according to the manufacturer's instructions. If after repeated washings you must fight with them to stay on, return them to the store.
Finally, you can check out special crib sheets designed specifically with safety in mind. Some of these sheets slip on the mattress like a pillowcase, others have a unique device that attaches the sheet to the mattress.
While baby bedding used to set the tone for the nursery, there are other ways for you to celebrate the theme of the nursery without relying on products that may affect your baby's safety.