If you're going to be changing diapers, why not do it in style?
Let's be honest: as much as we love our babies, no one really enjoys changing their diapers. But a cute changing pad cover can brighten up the process.
Many parents use a changing pad as a soft, safe place to hold your child while you change them. A changing pad cover can be a handy part of this process. The cover can protect the actual pad from any accidents or messes. If your cover gets soiled, just throw it in the washer (we recommend registering for or buying two or three covers to switch out in between washes).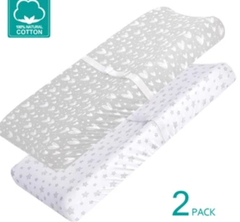 https://www.biloban.com/collections/changing-pad-covers/products/copy-of-changing-pad-cover-for-baby-girl-2-pack-pink-ultra-soft-100-jersey-knit-cotton
Changing pad covers also come in a wide range of lovely colors and prints to compliment your nursery decor or simply bring you a little bit of joy during diaper duty. (Tip: Check the measurements of the cover to make it sure it will fit your changing pad. Most fit standard sizes, but it's always good to doublecheck.)
Made from soft, breathable cottom muslin, these changing pad covers are a standard size so they'll fit most pads. And the unique Little Unicorn prints will add a special touch to your nursery.
Made of 100% GOTS-certified organic cotton jersey knit, these changing pad covers are gentle and safe against your baby's delicate skin.
The Summer Changing Pad is a popular parent pick, and this plush cover fits it to tee (it even comes with built-in holes to accomodate the pad's safety straps). It's an affordable price point too.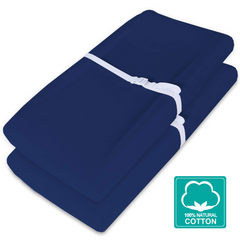 https://www.biloban.com/collections/changing-pad-covers/products/biloban-ultra-soft-natural-cotton-changing-pad-covers-2-pack-navy-blue
Biloban Baby Bedding is a manufacturer of baby bedding products. Our aim is to offer super comfortable baby bedding products in affordable price.