If you're wondering what the differences are between a bassinet and a crib and which one is best for your baby, you're not alone! As a parent, safety is always on your mind, with safe sleep at the top of that list.
And a big part of the question of sleep safety is whether to go with a bassinet or a crib. Fortunately, we are here to guide you through your baby's journey to safe sleep.
Bassinet Vs. Crib: What's The Difference?
Both a bassinet and a crib are safe places for your baby to sleep. But they do have a few important differences that we're going to break down for you.
What Is A Bassinet?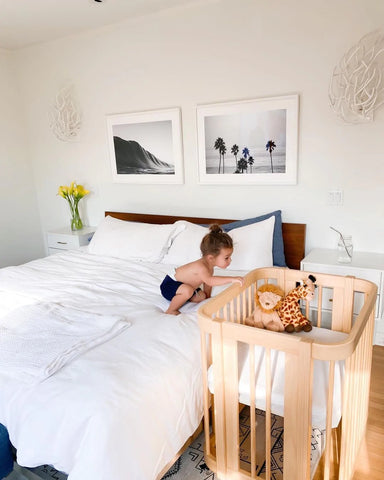 A bassinet is a bed specifically for babies from birth to about four months old. They are shaped like an oval, have mesh or cloth sides, and are generally designed for easy mobility.
The base of the bassinet raises the bed level to the average adult's waistline. Many parents have found this taller structure helpful in laying their baby down.
If you've had a C-section, for instance, you may not be able to lean over the side of the crib to lay your baby down and pick them up, so the bassinet becomes a better option. Bassinets are available in a variety of colors and decor. Many even come with ruffled designs, hoods, and storage beneath the bed.
Expert tip: Once your baby reaches 20 pounds or can roll over on their own, a bassinet is no longer a safe sleeping option. Based on the development and growth of your baby, plan to transition them out of the bassinet around four months of age.
What Is A Crib?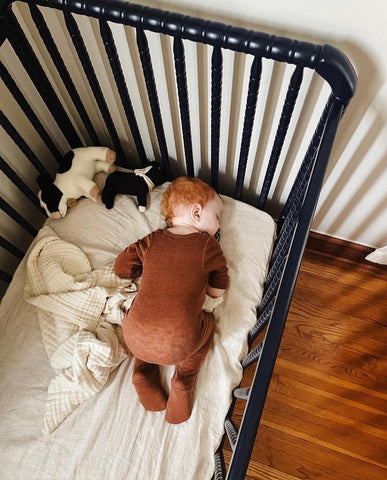 A crib is defined by Merriam Webster as a small child's bedstead with high enclosing, usually slatted, sides. Cribs are a safe option for keeping older babies in their beds. And while they come in a variety of styles, shapes, and sizes, below are the four main types of cribs.
Traditional Crib
A traditional (or standard) crib is rectangular. These cribs don't come with any extras like convertible cribs do, but the simple — yet effective — design is easy to set up.
Mini Crib
A mini crib is also rectangular, but it takes up less space. The traditional crib uses a standard crib mattress of 28 inches wide and 52 inches long, whereas the mini crib uses a crib mattress of 24 inches wide and 38 inches long.
Convertible Crib
A convertible crib is also rectangular and can eventually be converted into a toddler bed or daybed when your little one outgrows the traditional crib.
While the setup for convertible cribs is more extensive than that of traditional cribs, extra hardware and sides can be put together to transform the crib to fit your growing baby.
Also, the cost of a convertible crib is a little more than the cost of a traditional crib, but you may find this investment beneficial in the long run.
Round Crib
The round crib is the least common type of crib available.
Its unique design makes it the most expensive option on our list. But the style and size of a round crib provide your baby with more open space to move around and play in as they grow.
Bassinet Vs. Crib: Pros And Cons
Bassinet Pros
Easy mobility (you're able to move your baby around the house)
Weighs less than a crib
Convenient for room sharing
Perfect for small living spaces
Less expensive than a crib
Easier to lay your baby down
Bassinet Cons
Smaller size and high center of gravity could pose a potential tipping hazard
Used only for a few months
Crib Pros
Stable, sturdy design (less risk of tipping)
Used longer, even several years
Standard-sized mattresses are easy to find
Wide variety of styles, shapes, colors, and sizes
Crib Cons
Heavy (can be hard to move)
May not fit into your bedroom
More complicated assembly
Bassinet Vs. Crib: Which Is Safer?
According to the American Academy of Pediatrics (AAP), both cribs and bassinets are acceptably safe options for newborns. That said, they do suggest choosing either a freestanding crib or bassinet. A co-sleeper — or any type of sleeping device that attaches to your bed — is out of the question because, according to the AAP, they're not safe sleeping options for your baby.
The AAP recommends that your bassinet or crib have a tightly fitted sheet and an optional mattress pad — like Biloban's Waterproof Mattress Pad — under the sheet to keep your baby safe. No matter which one you choose, follow these safe sleep recommendations from the American Academy of Pediatrics:
Always lay your baby down on their back (never facedown).
Share a room with your baby until at least six months of age.
Do not share a bed with your baby (no co-sleeping).
No loose items in your baby's sleeping area (example: loose bedding, blankets, stuffed animals, or clothing).
No crib bumpers.
Do not use sleep positioners or any other type of sleeping aide for your baby.
Expert tip: Always read the instruction manual for the bassinet or crib you choose to see the product's weight limits.
 Mattress Fit
Ensuring there are no gaps between the mattress and side of the bed — whether that bed is a crib or a bassinet — is one way to provide a safe sleeping environment for your baby.
Bassinets usually come with a mattress specifically designed for the product, but a crib mattress is an additional purchase. When it's time to purchase a crib mattress, look for one that is: Breathable, Firm.
Also, make sure the dimensions of the crib mattress fit your crib exactly.
Speaking of protecting your little one, Biloban's waterproof&breathable mattress gives your baby safer, healthier, and better sleep, making our products the best choice. Consider a Biloban mattress to ensure great sleep — for you and baby!
Certified STANDARD 100 by OEKO-TEX®!
Extra firm comfort for your baby!
1. 
Smooth jacquard surface, naturally, breathable make your baby comfy all night. 
2. 
Made from premium high density foam, added air holes in the mattress ensure ultimate breathability .
3. Features hypo-allergic zippered cover that's removable and waterproof.
4. Easy care, the cover is machine washable.
Cite from: www.newtonbaby.com