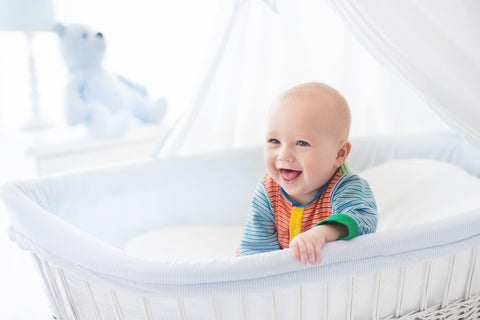 What your baby sleeps on matters just as much as what they sleep in. If your baby sleeps in a bassinet, it's important to choose a bassinet mattress pad that benefits and supports them. But knowing what to look for can be challenging.
Tips For Choosing The Right Bassinet Mattress Pad
When searching for a replacement mattress pad for your baby's bassinet, there are a few things to keep in mind. We want to make sure your baby is safe while they're sleeping, so take a look!
Firmness
As a parent, one of your top concerns is your baby's safety, especially when it comes to their sleep. One way to keep your baby safe while sleeping is to make sure bassinet mattress pad is firm.
According to the AAP, your baby's mattress pad should be firm and comfortable. The firm surface reduces the risk of suffocation. If your baby's bassinet mattress pad is too soft, it could be dangerous.
Tip: To check the firmness of your
baby's bassinet mattress pad
 and know whether it's unsafe or not, see if your baby's head makes an indention in it. If you notice an indention after your little one lies on
the bassinet mattress pad
, it may be too soft.
The bassinet mattress pad doesn't have to be so hard that it's uncomfortable and difficult for your baby to fall asleep and stay asleep; it just needs to be firm.
Thickness
If your baby's bassinet mattress pad is too thick, it could pose another risk for suffocation. But if it's too thin, it won't be comfortable for your little one. The right amount of thickness is important for both safety and comfort.
The bassinet mattress pad in your little one's bassinet should be no more than one and a half inches thick. Anything thicker could be a hazard.
Fit
Traditional oval- or rectangular-shaped bassinets measure about 30 to 33 inches long by 15 to 18 inches wide. On the other hand, some bassinets have their own dimensions.
Before choosing which bassinet mattress pad is best, pay attention to the shape and size of your baby's bassinet. In order to provide the safest sleep environment, the bassinet mattress pad will need to fit snugly inside the bassinet.
If you don't have the correct dimensions, this won't be possible. So before you begin your search, make sure to measure your little one's bassinet.
Consider Your Baby's Comfort
Material
Look for a bassinet mattress pad covered in material that's comfortable for your baby.
Some bassinet mattress pads can cause your baby's skin to itch, making your little one extremely uncomfortable. And when that happens, your baby won't sleep well during naps or at night time.
Additionally, if you notice your baby suddenly isn't sleeping as well after days or weeks of sound sleep, give their bassinet mattress pad a thorough inspection to see if there's anything on it that might be causing them discomfort.
Support
Your sweet baby's head and body are growing and developing constantly, so choose a bassinet mattress pad that supports that growth and gives your baby the quality sleep they need to achieve all of their developmental milestones.
Noisiness
The Moro Reflex is a natural reflex that develops in your baby between 28 to 32 weeks of gestation and disappears between three to six months of age.
It is your baby's response to a sudden loss of support and involves three distinct components: spreading out the arms, pulling the arms in, and crying.
Because your baby will continue this reflex throughout the first few months of life, they'll move a lot in their sleep. And when they move, it can make loud noises if their bassinet mattress pad is covered in certain materials.
(We've found that bassinet mattress pads made with a plastic covering cause the most disruptions in your baby's sleep in regard to noise.)
Because of this, the Moro Reflex can hinder your baby from getting a good night's sleep if they're not swaddled properly. Your little one needs to be tight and cozy while sleeping. If not, the Moro Reflex — or the noise their bassinet mattress pad makes as a result of it — can wake them up.
Biloban Baby's Organic Cotton Swaddles are the perfect solution to help your baby stay safe and cozy (and quiet!) while they're sleeping!
Choose A Bassinet Mattress PadThat's Built To Last
Durability
A durable bassinet mattress pad should last months before showing any signs of deterioration. Mattress pads that deteriorate after only a few uses can keep your baby from getting a good night's sleep.
How can you tell if the bassinet mattress pad you're considering is durable? Pay attention to its quality.
For example, a poor-quality bassinet mattress pad will come apart easily and may have bumps or lumps in it. This surface would not only be uncomfortable for your baby but also unsafe.
Waterproof, Washable Cover
For your baby's bassinet mattress pad to last as long as possible, it needs to be waterproof. Why? Because your infant will spit up and have accidents. It's unavoidable.
But you can avoid an unsafe sleeping environment! To create an environment where mold and mildew can't grow, choose a waterproof, washable mattress pad cover to protect your little one's bassinet mattress pad.
Chemicals
Many products — even some designed for babies — end up off-gassing after you purchase them.
This process involves releasing chemicals into the air once a product is opened, which may or may not have a strong scent. The chemicals are released because the air has been trapped due to packaging.
To avoid off-gassing, check the labels on your baby's bassinet mattress pad for plastic and other harmful substances. And always research the materials labeled on the bassinet mattress pad if you're not sure what something is.
If you notice a substance that could harm your baby, keep looking for another bassinet mattress pad!
Fire Resistance
As of 2007, all mattress pads are required to contain enough Fire Retardant Chemicals to withstand a two-foot-wide blowtorch open flame for 70 seconds.
Nearly 92 percent of the market (or most major sleep-product brands) use highly controversial fire retardants due to their cost-efficiency. Look for a stamp of certification from the GREENGUARD Gold program to know if the fire retardants used in your baby's mattress pad are safe.
The GREENGUARD Gold program is the strictest certification offered by Underwriters Laboratory (UL) and recognizes products that are safe for children to use.
In your search for a bassinet mattress pad, remember to put your baby's safety first, which is what we do here at Biloban Baby. But also consider your little one's comfort level so they can get a good night's sleep!