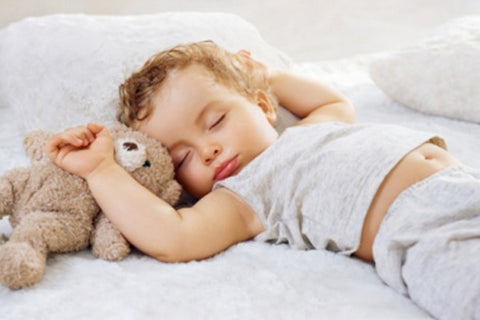 Making your baby's nursery a cozy and restful place for them to sleep and grow is important! As you decide how to decorate and furnish their room, you'll probably want to deck it out with every cute
baby pillow
you see.
Sleeping on a pillow at night and decorating with throw pillows seems like a no-brainer as adults. But when it comes to baby pillows, there are a few safety considerations you'll need to keep in mind.
Creating a safe sleep environment is the most important consideration when it comes to baby pillows and keeping your little one safe.
Since you, as an adult, sleep with a
baby pillow
(and probably like to deck your bed out with throw pillows, too), you might feel the need to provide your infant with a pillow to lay their head on.
But in reality, babies don't need
baby pillows
to sleep. More than that, sleeping with a pillow in their crib can be dangerous for your baby.
The American Academy of Pediatrics recommends that your baby sleep with nothing in their crib. That means no pillows, no crib bumpers, no top sheet, no blankets, no toys…. We could go on, but you get the idea.
All that's required for your baby to catch some zzz's is a firm crib mattress and a fitted sheet  (and a waterproof mattress pad if you like). Before we move on, let's talk about these three crib items.
Now that you know what a baby should sleep with, let's answer this question: Why
shouldn't
a baby sleep with a
baby pillow
? The answer is simple, yet important.
Putting a pillow in the crib increases the chance that your little one will overheat or accidentally press their face into it, making it harder for them to breathe and increasing the risk ofsuffocation.