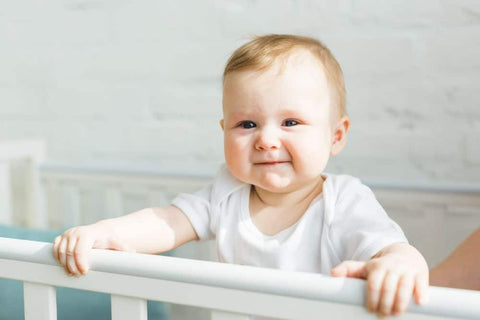 Making your baby's nursery a cozy and restful place for them to sleep and grow is important! As you decide how to decorate and furnish their room, you'll probably want to deck it out with every cute baby pillow you see.

Sleeping on a pillow at night and decorating with throw pillows seems like a no-brainer as adults. But when it comes to baby pillows, there are a few safety considerations you'll need to keep in mind.

That's what Baby is here for! In this article, we'll cover what you need to know about baby pillows to keep your little one safe and comfortable. Then we'll talk about some of the pillows on the market and when and how you should use them.

Without further ado, let's jump in so you can start preparing for your baby!
Baby Pillows and Safe Sleep Recommendations
Creating a safe sleep environment is the most important consideration when it comes to baby pillows and keeping your little one safe.

Since you, as an adult, sleep with a pillow (and probably like to deck your bed out with throw pillows, too), you might feel the need to provide your infant with a pillow to lay their head on.

But in reality, babies don't need pillows to sleep. More than that, sleeping with a pillow in their crib can be dangerous for your baby.
A Firm Crib Mattress
For the safest sleep, a baby needs a firm mattress. But that doesn't mean that you have to sacrifice your little one's comfort!

For example, the Newton Baby Crib Mattress is much more comfortable than traditional mattresses, which are rock-hard and wrapped in plastic.

We also don't use foam, glue, latex, or springs. In fact, our crib mattress is independently tested and certified for low chemical emissions to Greenguard's Gold Standard.
Biloban Baby Bedding
is a manufacturer of baby bedding products. Our aim is to offer super comfortable baby bedding products in affordable price.