First question: What is a nap mat?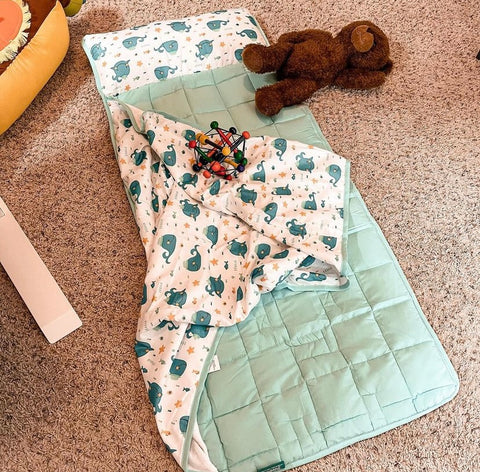 A nap mat is a comfy and cozy cocoon for your little one to sleep in. A majority of models come with an attached blanket (so no worries about losing it) and most have removable pillows, too. Based on their size, nap mats work best for kids ages 2 to 5 who still need some extra zzz's during the day.
Are nap mats necessary?
Of course the answer is yes.
The benefits of having a nap mat outway a tired and cranky kid. Especially if your child takes naps at school, we'd say nap mats should be high on your toddler gear must-have list. Nap mats are one way of delineating personal space for toddlers to nap in a crowded room. It also provides a small amount of cushioning for comfort. Most toddlers sleep in cribs at home until approximately 3 years of age but some children are moved to regular beds sooner. Mats on the floor can be a middle ground that is appropriate for both those used to cribs and those in beds at home.
Nap mats also make things easier for your child's daycare or school. They are easier to store and allow for more flexibility without having to require separate rooms for naptime.
When to Choose for Kids?
Kids' nap mats are normally suitable for children ages 2 to 5. But before you buy one for your little one, there are a few things to consider—including different types of sleeping mats, distinguishing features and frequency of use.
Which type of nap mat is best?
There are different types of nap mats to consider when buying one for your kiddo, the most popular being roll-up mats, which offer the most comfort and portability. We rounded up the coziest and snuggliest nap mats your kids will love, but before purchasing, here's a tip you might want to consider: Buy the nap mat a few weeks in advance so your child has plenty of time to get used to it. That way, when it's time to go to school (or anywhere else), they'll have something that feels familiar from home.
That's why I highly recommend Biloban's Toddler Nap Mat.
Certified STANDARD 100 by OEKO-TEX®!
1. Measures 21'' in width by 50'' in length with the attached comforter measuring 33" in width by 41" in length
2. 100% microfiber, breathable, fade resistant and naturally hypoallergenic.
3. The roll-up design allows the mat to travel with ease as well as the convenient fastening closures straps and the carrying handle
4. Fun, colorful and eye-catching patterns
5. Easy care, machine wash the set in a gentle cycle, tumble dry on low heat
Cite from: www.scarymommy.com