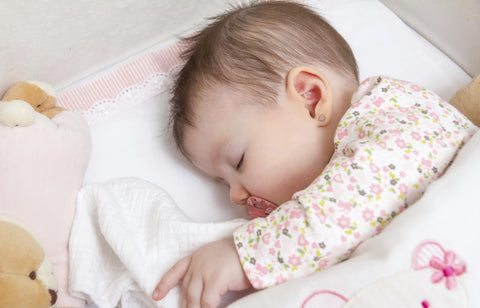 Crib bumpers are readily available and often included in crib bedding sets.
They're cute and decorative, and they seem useful. They're intended to make your baby's bed softer and cozier. Let's take a look at how one mother feels about using a breathable crib bumper.
I've been secretly tackling our next home project.Now, I have something a little different I wanted to share with you today.
This one is geared to all the parents out there.
I was recently gifted the most wonderful breathable crib bumper from Biloban.  It creates the most amazing handmade, customizable, breathable crib bumpers and pillow products.
Now being a mother myself, who likes to decorate spaces, I was instantly sold by just the look of these bumpers. I mean come on—it's fun, it's cute, it's stylish and what I love most, it's totally unique! This isn't a product that you'll find in your local baby store.
After trying this crib bumper out for myself, I just had to share it with you guys.  I truly think Biloban has something really special to offer and I wouldn't be surprised if this breathable bumper becomes the next trending must-have nursery item.
Now let me tell you about my daughter Olivia.  She is what I like to refer to as "The Headbanger" sleep type.
Most nights, I can hear her slide and wiggle her way around the crib, usually waking up mid-way through, crying because she just slammed her head into the crib slats.
For most parents in my particular situation, a crib bumper is a must for survival.
When I received our new bumper, I could really see and feel the quality as soon as I opened the box. This breathable bumper is made of a high quality cotton blend with a 100% hypoallergenic filing.
It's cushiony enough to save every single headbutt Olivia has been throwing its way and unlike a traditional crib bumper, the breathable technique also allows for unrestricted airflow.
When it came to keeping the bumper in place, matching fabric ties were provided. I actually liked the freedom to strategically place them around the crib. I can't tell you how much I dislike pre-attached ties that never match up to your crib slats. It always throws my need for symmetry off.
Most importantly, I like the safety aspect of it all. I'm able to attach the ties to the middle of the braid where it's out of sight and out of reach.
Another benefit I really like about this breathable bumper is the height. If Olivia steps on it, (which at her age she always does), it does not act like a booster to help her climb over her crib. Instead, with the plushness of the bumper, it just flattens right down with her weight.
The breathable crib bumper shown here is the full crib size version in pastel pink. Biloban offers a variety of sizes, colours and customizations. You can even mix and match colours to accommodate your nursery decor.
Maintenance is easy. Spot clean or machine wash on delicate cycle. I literally threw my bumper over my staircase and just let it hang to air dry.