The vacation is near. You've longing for this holiday for so long. You are wondering how you're going to relax and sleep while away from home. Not to say that it's gonna be you first vacation with your baby, you're very much excited but somehow also worried about how your baby would adapt to the new environment and whether or not he/ she would continue to sleep the nights?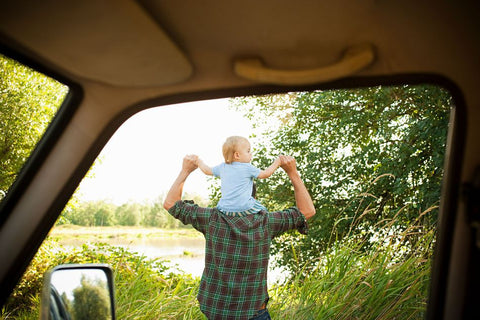 You have every reason to worry about that. The one factor that can make or break your vacation is the quality of your baby's sleep. If baby doesn't sleep on vacation then no one sleeps, and if no one sleeps then it's harder to enjoy your time on the road, especially if you have lots of activities planned.
Here are a few useful tips that could help your baby get to sleep on vacation and may even lead to undisturbed sleep on vacation.
Bring him/ her familiar surroundings of home.
Maintain your regular bedtime routine.
Be consistent with how you respond to night waking.
Respond as you would if you were at home.
Try and stick to your nap schedule the best you can but if it doesn't work out, don't stress. Try and enjoy your vacation, nothing is perfect.
If your child falls asleep in motion or on the go, try and maintain the motion so she can at least get a 45 min or longer nap in.
Do your best to get your child sleep – even if that means naps in motion.
Being overtired makes it harder to fall asleep and then stay asleep so if she's losing sleep hours she'll fall into a negative feedback look of being overtired.
After all it's still vacation and you just want both yourself and your baby to be as cozy and relaxed as possible, that why i'd like to recommend you to prepare a Biloban trifold Pack N Play mattress for your little one.
Biloban Pack n play mattress could be used perfectly as travel mattress, it folds away neatly & comes with a bag too for easy storage. 
1. Designed to fit all major standard size playards, 37.5L x 26W x 2H inches with rounded corners
2. Constructed from top quality, high density foam
3. Non-slip back design improves security 
4. Trifold design allows you to easily store/ travel with your mattress
5. Features a zipper closing hypoallergenic waterproof cover, no worry about accidents and keeping your topper clean
This product recently awarded Mom's Choice Awards® Gold Recipient! Named among the best in family-friendly media, products and services and it's on sale now! Just click and get one to make your baby feel as comfortable as possible!