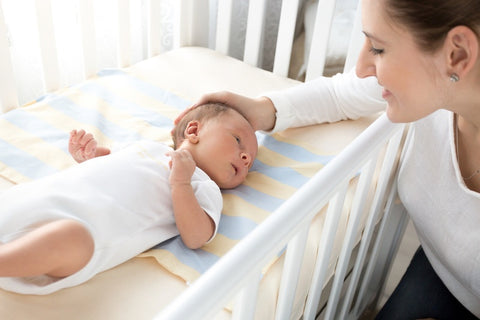 Did you just give a birth? Having a newborn baby at home can definitely evoke a lot of confusion and you would find ways to make the baby feel comfortable. Usually newborn experiences a hard time in maintaining their body temperature and so it's the responsibility of parents to soothe them out. But, many a times things get worst and turn into a tragedy as new parents lack the knowledge of how to make their baby warm, this article explains about best baby crib bumper.
5 WAYS TO KEEP THE crib bumper WARM
As parents, it is the duty to know how you can keep the baby crib bumper and baby warm in safest manner. There are few methods that can act as a support and help your baby sleep while ensuring complete comfort. Do you know the trick of keeping your baby warm? You should know certain tricks and maintain a balance between keeping a baby warm and not overheating him.
MAKE USE OF SLEEPING BAGS:
You can surely make use of sleeping bags or sacks so that the baby can stay warm in crib bumper. Blanket is not a good idea when it comes to keeping your baby warm as this can cover baby's face and can lead to death of infant. So, as parents you need to eliminate the risk of using blankets and use sleeping sacks or bags instead.
KEEP THE ROOM WARM:
Have you tried to keep the room warm? It is an important thing that you should do. Create a cozy room so that the baby can have a comfortable sleep. The ideal temperature should be 68 to 72°F. Maintaining this temperature can certainly ensure to have a warm room while maximizing comfort and sleeping environment.
MAKE USE OF HEATING PAD:
Try to warm up the crib bumper by making use of heating pad which is an essential aspect of keeping crib bumper warm. Preheating is a wonderful option when you house is too cold! A sleeping space should always be comfortable for your baby and there is no need for heavy blankets. Place the heating pad for some timeon the crib bumper pads to make the mattress warm.
CHOOSE RIGHT PLACE FOR crib bumper:
Another way to keep crib bumper pads warm is to place it in right position. The position can determine how much warm your baby can get. So, it is vital to choose an appropriate position and make sure to keep crib bumper away from heaters, windows and air vents. Make use of curtain cords to ensure safety of baby.
CHOOSE MATTRESS CAREFULLY:
Material of the mattress can certainly affect quality of sleep. This can also make a difference in the warmth. Make sure that the mattress is not too soft or plush. Rather, to keep crib bumper pads warm use tight flannel sheet to cover mattress.
The crib bumper is haven for your baby and so it is important to ensure that it offers maximum comfort and safety while baby is asleep. So, check the temperature and choose proper clothing so that you can offer the maximum warmth to your baby. Make sure that your baby is warm so that they do not feel uncomfortable.